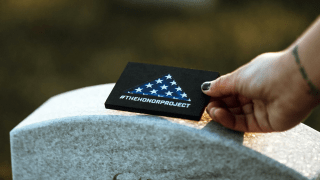 Every Memorial Day since her grandfather's death, Emily Domenech has visited his gravesite at Arlington National Cemetery in Virginia. Now, she's showing that respect to thousands of other fallen soldiers through an initiative called "The Honor Project."
It launched with a tweet that went viral in May 2020.
Back then, COVID rules at Arlington Cemetery on Memorial Day restricted visitors to family members with a special pass. While visiting her grandfather, Col. John Domenech, who died in 2006, Domenech had an idea.
"Does anyone have buddies buried in Arlington who they would like visited today?" she tweeted. "Since only family members are allowed in, I would be honored to pay respects on your behalf."
Link: Volunteer or submit your fallen hero with The Honor Project
Domenech thought she might hear from a handful of friends.
"After hundreds, then thousands of responses, it became so clear that there was a huge need and desire to honor fallen people," Domenech, a stepmother of three, tells TODAY.com. "Families from all around the world said things like, 'My grandfather or uncle is buried there and I can't travel from Kansas.'"
For eight hours that day Domenech "ran around Arlington Cemetery like a crazy person," she recalls, tweeting photos of requested gravestones. She left a flower on each grave, some pulled from bouquets she bought for her grandfather and some given by a non-profit group distributing them in the cemetery. When Domenech ran out, she drove to a store to buy more.
"I (barely) ate or drank, although my parents, whose barbecue I wound up skipping that day, brought me a sandwich and spent three hours helping me visit more graves, take photos and reply to tweets," says Domenech.
When a Twitter user unearthed Domenech's personal Venmo account and offered to send donations, she directed them to several charitable organizations, including the Travis Manion Foundation. Its president is Ryan Manion, whose little brother Travis Manion, 26, a former first lieutenant in the Marine Corps, died while saving the lives of his wounded teammates in Iraq.
"He was the only member of this patrol that day who did not survive," Manion tells TODAY.com. "He received a Silver Star for bravery."
Domenech and the Travis Manion Foundation, an organization that helps veterans and surviving families thrive in their post-military lives, conceived The Honor Project, an annual Memorial Day event that expands Domenech's work on a grander scale.
The project draws volunteers from all over the country to place Flags of Valor at gravesites, say aloud the name of each person and reflect on their sacrifices.
So far, volunteers have visited the graves of more than 5,000 fallen soldiers across seven cemeteries. This year, organizers hope to grace more than 10,000 gravesites across 14 public military cemeteries. Most events take place on Memorial Day. Anyone can sign up as an Honor Project volunteer on the TMF website; those requesting visitors for their loved ones can "Submit Your Hero" on the website. Photos shared on social media bear the hashtag "The Honor Project" hashtag
Domenech remembers many of the late service members whose graves she has visited.
"Air Force Capt. Ryan S. Phaneuf was killed in Afghanistan in January 2020 and buried a month later," she says. "His spouse reached out to me because she hadn't been able to see his grave. I was the first person to visit him. Now I am Facebook friends with his mom and sister."
Sgt. 1st Class Antonio Rey Rodriguez, buried at Arlington, shares Domenech's July 26 birthday.
"I looked up his bio online and learned he was deployed five times," she says. "One year, I went to visit his grave and found a bottle of alcohol and a little stack of cups (with a sign) that read, "Take a shot for Rod." Domenech obliged and sent a selfie to the family, which had shared their phone number. "I'll never meet that family but I feel so (special) to be a part of their (lives)," she says. "What a privilege to serve those who served at an important time."
The Honor Project is only one way to give back on Memorial Day.
"We all don't have to serve in the military but we must have an understanding and appreciation of those that do," says Manion.
One thing anyone can do is simply Google the names and stories of fallen service members, she suggests. "When you're at a pool party this weekend, share that story with someone else," she says. "It's important to acknowledge why this weekend exists ... no one wants their loved one's name and story to die."
"My own favorite memories are from Memorial Day when Travis and I went to the beach," adds Manion.
"Those people sacrificed so you could have that barbecue ... their sacrifice is why we have this incredible free country," notes Domenech.
Volunteer or submit your fallen hero with The Honor Project
This story first appeared on TODAY.com. More from TODAY:
Copyright Today Digital Originals