May is Mental Health Awareness Month, but taking care of your mental wellbeing is a daily task 365 days a year.
Making your home —especially your bedroom — a safe-haven for your peace should be a non-negotiable. After a long day at work or school, an evening in your zen-filled personal space can help soothe your mind, ease your thoughts and relax your body.
George Oliphant and the "George to the Rescue" team gifted Angela Skudin a peace-filled home renovation after her mental health was unexpectedly shaken by tragedy.
Angela's husband, Casey, was killed on a family trip to celebrate Father's Day and his birthday when a massive tree fell on the roof of their car during a windstorm. The NYC firefighter died instantly, while the rest of the family, including the couple's two boys, crawled from the crushed vehicle to safety.
More George to the Rescue
Angela, who runs a small business and manages an organization dedicated to her late husband's heroic legacy, needed help restoring the peace in her life – and home.
And that's exactly what the "George to the Rescue" crew did.
"I know Casey would be really happy because he hates it when I take on home projects," Angela joked with happy tears in her eyes.
Here are some things to consider and do to create a calming space to meditate in any room or space around your home.
Find a comfortable area to meditate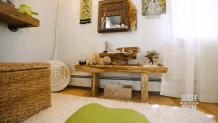 "Meditation can give you a sense of calm, peace and balance that can benefit both your emotional well-being and your overall health," Mayo Clinic medical experts said.
Once you identify an area in your bedroom or any room around your home for meditation, choose a comfortable mat, sheet or blanket to set on the floor.
Comfort is key in meditation. The more comfortable you are, the more peace you will find.
To maximize serenity, this area can also be complemented with throw pillows or cushions.
Decorate with items that highlight your personality or spirit
You won't find comfort in a space that doesn't look and feel like yours. So, make it yours.
"[Angela] has a lot of really eclectic, cool pieces that I would love to incorporate into her space," Keri Venti from Wolf & Wing Interior Designs said about the renovation for the Long Island family of talented surfers.
Displaying items like sentimental jewelry, artwork, knickknacks, photographs, or items that bring back fond memories will help give your space a personal touch.
Set the mood with aroma therapy or calming sounds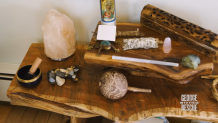 Meditation looks different for everyone. Some like to burn sage, while others may prefer essential oils.
Crystals, salt rocks and singing bowls can also help create a calming atmosphere to meditate.
What about sound? Do you want to listen to relaxing wind chimes, smooth jazz or white noise?
Find out what works for you. And then, relax, relate, and release.
See more home renovation and interior designs hacks and inspiration below: