Dramatic new police bodycam footage shows the rescue of a young boy who became trapped in a submerged car by a group of Miami-Dade Police officers.
The video released by the department Tuesday also shows the emotional reactions of the officers who stepped in to save the 3-year-old back on Feb. 27.
The driver, Orlando Valdes, had just picked up his son, Christopher, from daycare and they were heading home to celebrate the child's birthday.
Orlando Valdes said he felt a car coming in the opposite direction was about to crash into him so he swerved and ended up in the canal.
"I removed my seatbelt and then turned around to try and take my son out of the carseat," he said.
Orlando Valdes said what was seconds felt like hours as he tried to unfasten the car seat with water filling the car.
"It is more than nerve-wracking. I thought that was it, I thought I lost him," he said. "Some on scene told me get out of the car and then we'll take the boy out and I said no, until my son isn't out I'm not getting out."
Miami-Dade Police Sgt. Edward Webster was the first officer to arrive at the scene.
"The call went out, it was a child in danger and that is what all cops fear," Webster said. "It was actually hard to see the car, cause the car was stuck under the bridge. So I heard people screaming, I saw them flag me down."
Police said the car was submerged for several minutes before officers arrived, and despite efforts by the father and bystanders, they had been unable to get the boy out of the car seat.
"My son was definitely under water at one point. I am so grateful to the officers on scene and parademics who rendered aid," Orlando Valdes said.
In a 911 call released by police, a woman is heard screaming in Spanish about the dire situation.
"They can't get out, the car is sinking, oh my god!" she said. "Oh no, the car is sinking!"
Webster said he got on his radio and asked for more units for help, knowing it was going to be hard to access the car.
"This one was different because as a father, when you hear a child's underwater in the vehicle and the parent can't get them out, the first emotion that clicks in your head is 'go,'" Officer Emanuel Walton said. "Given the fact that we couldn't see through the water, somebody had to make the choice to get in and I just acted, wasn't even a thought."
Walton and other officers went into action, trying to find the boy in the canal's murky waters.
"I couldn't see through the water so I had to come back up a couple of times and just basically use touch to figure out what was what inside of the vehicle," Walton said. "Eventually I felt the baby seat, the car seat, and I pulled it as hard as I could because I couldn't figure out where the seatbelt was or anything of that nature, luckily it broke off and the child was able to pop up to the top of the car so I snatched him out and I handed him off as soon as I could."
The child was brought to the embankment where Officer Junior Clervil immediately began to give him CPR.
"I was getting nervous because I knew that time was of the essence. I was really getting nervous," Clervil said.
After numerous chest compressions, Christopher Valdes began to breathe again.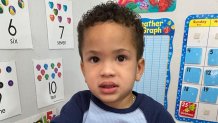 "I felt great, but when the baby started crying, I started crying too because it was the best cry I've ever had in my life," Clervil said. "It felt good knowing that, you know, although it was a bad day for all of us involved, but it turned out to be a great day at the end."
Christopher Valdes was hospitalized but his father said he is now in great health.
"I am grateful to God, grateful for life, grateful for everyone present that day. They saved our lives," he said.
Officer Julian Reyes, who assisted in the rescue, said the meaning of what happened didn't hit him until he saw Valdes alive in the back of an ambulance.
"I've had multiple calls that it doesn't end the way that we wanted it to," Reyes said. "My sergeant literally grabbed me and said 'you need to come over here now.' He swung that door open and said 'you guys did that.' We saw the baby crying and we saw him screaming and we realized, alright, that's what we were called to do, right there, that's the reason why we do what we do."