A bizarre legal question could soon be decided in Miami-Dade after a petition was filed to have an inmate's unborn baby released from detention.
The emergency petition was filed last week on behalf of the unborn child of 24-year-old Natalia Harrell, who was arrested this past July on a second-degree murder charge.
"An unborn child is a person," said attorney William Norris, who represents the unborn child. "A person has constitutional rights and one of them is the right not to be deprived of liberty without due process of law."
The unusual petition claims the unborn child, which has spent about eight months in the womb, has received inadequate prenatal care while Harrell has been held without bond.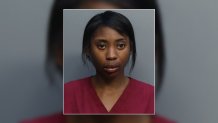 "I am asserting the right of someone who is a person who has not been considered in the decision to incarcerate his mother," Harris said.
Attorneys for the unborn baby claim the Miami-Dade Corrections Department didn't bring Harrell to a scheduled prenatal medical appointment at a local hospital, and claim her last visit with an OB-GYN was in October 2022.
"There has been a lack of reasonable and necessary prenatal care for the unborn child by respondents," the petition states.
Michael O'Brien, the father of the baby, filed the petition and said he is concerned about the wellbeing of his child.
"Obviously I have concern for the health and well-being of my baby," he said. "I don't want the baby to be born prematurely or low birth weight. The conditions are terrible and I feel she's not getting the prenatal care she should be getting."
Miami-Dade Corrections officials released a statement on the petition's claims Monday.
"Miami-Dade County Corrections and Rehabilitation partners with Jackson Health System to provide healthcare to the inmates in our custody, and we are committed to ensuring all inmates receive professional, timely medical care and all appropriate treatment," the statement reads. "We are conducting a full review of the health services offered and received to ensure that all pre-natal care being provided in our custody is appropriate."
The petition notes the unborn baby hasn't been charged with a crime, and is having their due process rights violated since they are a person under the Florida Constitution. It seeks to have the unborn baby immediately released.
Attorney and legal analyst Kendall Coffey, who is not connected to this case, explained how the Supreme Court's overturning of Roe. v Wade is making way for these kinds of debates.
"A woman's right to an abortion has been erased from the U.S. Constitution; What we're beginning to look at more closely is what are the rights of an unborn child and at what point do they begin to arrive?" he said. "Florida, like most states, has spoken to the rights of an unborn child with respect to the right to be free from homicide — so the homicide statutes include unborn children in Florida and many other places, but other constitutional rights, other statutory rights, are just being developed as we're all beginning to absorb the new age of post Dobbs."
Coffey said he doesn't think there will be judicial willingness to set a precedent in a case like this, but he thinks it will generate discussion and some action from the courts.
"Even apart from deciding the monumental issue of what are the constitutional rights of an unborn child, the attorneys for both the unborn child and the mother want to get them out of and into home confinement in a secure environment if they can get that, that's a huge win," Coffey said.
Harrell was arrested after police said she shot and killed another woman as they rode in an Uber in Miami last July.
Police said Harrell and the other woman, 28-year-old Gladys Yvette Borcela, got into an argument and Harrell shot Borcela.
According to a motion to set bond filed by Harrell last month, Harrell said she was assaulted by Borcela and was in fear for her life and the life of her unborn child when she fired the fatal shot.
The motion said Harrell will seek to have the case dismissed under Florida's so-called "Stand Your Ground" law.