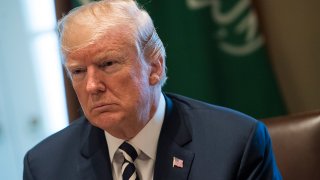 The Justice Department is seeking to stop a deposition with Donald Trump this month in lawsuits filed by two former FBI officials who have been frequent targets of criticism by the former president.
In a redacted court filing Thursday, Justice Department attorneys said that Solicitor General Elizabeth Prelogar authorized an appeal to the the D.C. Circuit unless a lower court judge reconsiders an earlier ruling allowing Trump's deposition to take place before a deposition with FBI Director Christopher Wray.
U.S. District Judge Amy Berman Jackson in February ruled that Trump and Wray could be deposed in the 2019 lawsuits brought by Peter Strzok and Lisa Page against the Justice Department and the FBI.
Justice Department attorneys said in Thursday's filing that they just recently learned that Trump's deposition has been scheduled for May 24, before any deposition for Wray.
Both Strzok and Page were frequently targeted by Trump during his presidency. They made headlines in December 2017 when it was announced that they had been removed from then-special counsel Robert Mueller's investigation over text messages that disparaged Trump.
Lawyers for Strzok declined to comment. Attorneys for Page and lawyers for Trump did not immediately respond to requests for comment.
Read the full story on NBCNews.com here.