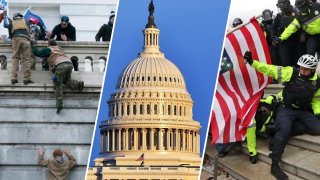 On the second anniversary of the storming of the U.S. Capitol, as the Justice Department continues prosecuting rioters, the FBI is offering $500,000 for information leading to the arrest of whoever left two pipe bombs on Capitol Hill.
The person being sought left the bombs outside the Republican and Democratic national committee headquarters on Jan. 5, 2021. The explosives were discovered and destroyed.
The reward was raised from $100,000 this week.
The FBI's Seeking Information website includes images and video of the suspect, the suspect's backpack and shoes, and the explosive devices and a map of the route the suspect walked the night the pipe bombs were placed. Many of the pipe bombs' components could be bought in stores or online, including 1x8-inch threaded galvanized pipes, end caps, kitchen timers, wires, metal clips and homemade black powder, the bureau said.
Meanwhile, more than 950 people have been arrested in connection with the Jan. 6 insurrection at the Capitol. The Justice Department is still seeking additional attackers. More information, including photographs and video, can be found on this FBI website.