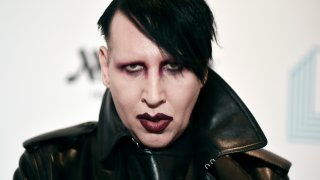 A lawsuit accusing musician Marilyn Manson of "childhood and adult sexual abuse, sexual battery, assault and molestation" was filed in New York on Monday.
Manson's former label, Interscope Records and Nothing Records, are also named as defendants in the lawsuit filed in Nassau County and accused of "protecting, promoting, and profiteering from" his alleged conduct.
The lawsuit, filed on behalf of a Jane Doe, alleges Manson, whose real name is Brian Warner, sexually assaulted her on his tour bus after an all-ages concert in 1995, when she was 16 years old. Manson also allegedly threatened to kill her and her family if she told anyone, the suit alleges.
Howard King, an attorney for Manson, called the allegations in the lawsuit "vicious lies" and said his client "will not submit to this shakedown."
For more on this story, go to NBC News.