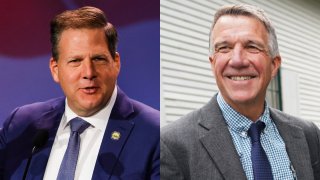 New Hampshire Gov. Chris Sununu and Vermont Gov. Phil Scott were re-inaugurated on Thursday.
The two Republicans were both reelected in the November election. Their inauguration came on the same day that newly elected Gov. Maura Healey, a Democrat, was inaugurated in Massachusetts.
The governors of Connecticut, Maine and Rhode Island were already inaugurated earlier this week.
Sununu devoted much of his speech to championing New Hampshire's successes, calling the state an "island of freedom surrounded by frankly highly taxed and highly regulated states."
He touted its high rankings for public safety, personal freedom and economic opportunity. He highlighted investments in housing, property tax relief and substance use disorder treatment.
"None of this is an accident. It's the result of smart management, responsible decision-making and simply putting individuals — simply putting people — first," Sununu said.
The speech included no policy proposals — those likely will come in a budget address next month. Instead, he sought to set a tone for the next two years at a time when the country and state are deeply divided.
Sununu called New Hampshire's near-even split in its 400-member House "an awesome opportunity" to show the nation that cooperation and compromise are possible.
"The voters of New Hampshire do not reward those who yell the loudest, but they reward those who work hard, roll up their sleeves and get the job done," he said.
Scott took the oath of office and delivered his fourth inaugural address from the floor of the Vermont House. He paid homage to retiring U.S. Sen. Pat Leahy and channeled his legacy in calling on lawmakers to help average state residents, NBC affiliate WPTZ reported. The 41-minute speech also touched on mental health, the housing crisis, climate change and other topics.
NBC/The Associated Press