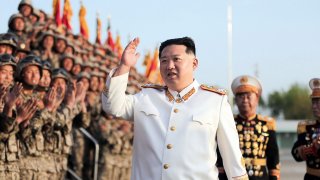 North Korean leader Kim Jong Un has overseen drills simulating a nuclear counterattack against the U.S. and South Korea, state media KCNA said on Monday.
The drills, which Reuters reported, are seen as a warning to the allies who are scaling up their joint military exercises.
They involved a short-range missile launch but — unusually — the missile flew from a buried silo, which analysts say would help improve speed and stability in future tests of intercontinental ballistic missiles, according to the report.
Read more at NBCNews.com.