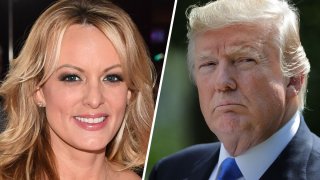 A New York City grand jury has been convened in the case of hush money payments made to Stormy Daniels allegedly authorized by Donald Trump in 2016, three sources familiar with the situation confirmed to NBC News.
A spokeswoman for Manhattan District Attorney Alvin Bragg declined comment. Ron Fischetti, Donald Trump's attorney, declined comment Monday night. In a post to his Truth Social platform, Trump blasted Bragg as the "Radical Left Manhattan D.A." and said the new grand jury was "a continuation of the Greatest Witch Hunt of all time."
Michael Cohen, Trump's former personal attorney and fixer, met with prosecutors recently as the investigation heats up, an could be asked to appear before the grand jury. The New York Times first reported news of the grand jury being convened in the years-old investigation into payments made to Daniels, a former porn star, in order to keep her quiet about about an alleged sexual encounter between her and Trump.
The Times reported that witnesses started testifying before the grand jury on Monday, signaling an escalation in what Manhattan District Attorney Alvin Bragg has alluded to as "the next chapter" in his office's Trump investigation.
Grand juries have been convened before in New York to explore the possibility of criminal charges against Trump, but to date none have issued an indictment. The Manhattan grand jury would be the latest legal threat to Trump as he ramps up his presidential campaign.
A special grand jury in Atlanta has investigated whether Trump and his allies committed any crimes while trying to overturn his 2020 election loss in Georgia. Last month, the House Jan. 6 committee voted to make a criminal referral to the Justice Department for Trump's role in sparking the violent insurrection at the U.S. Capitol. The FBI is also investigating Trump's storage of classified documents.
The hush-money investigation in New York involves payments of $130,000 to Daniels and $150,000 to former Playboy model Karen McDougal to buy their silence in the run-up to Trump's 2016 election victory. Trump has denied having affairs with either woman.
In 2018, Trump tweeted that the money was "not from the campaign" and that the deal had been "a private contract between two parties, known as a non-disclosure agreement, or NDA."
"The agreement was used to stop the false and extortionist accusations made by her about an affair ... despite already having signed a detailed letter admitting that there was no affair," Trump said on Twitter.
Cohen made the payment to Daniels through his own company and said he then was reimbursed by Trump, who acknowledged that he repaid Cohen the $130,000. McDougal's payment was made through the publisher of the supermarket tabloid the National Enquirer, which then squelched her story in a journalistically dubious practice known as "catch-and-kill" to help Trump become president.
The New York Times reported that the National Enquirer's former publisher, David Pecker, was spotted entering the building where the grand jury was meeting on Monday.
Cohen pleaded guilty in 2018 to federal charges that he violated campaign finance law by arranging the payouts. He served about a year in prison before being released to home confinement because of the COVID-19 pandemic. Federal prosecutors said Trump was aware of the payouts, but they declined to charge him with any crime.
Cohen previously told The Associated Press he recently met with Manhattan prosecutors for 2½ hours. He maintained in an MSNBC interview Monday that the payment "was done at the direction of and for the benefit of Donald J. Trump."
The Trump Organization was convicted last month of tax fraud and fined $1.6 million as punishment for an unrelated scheme in which top executives dodged personal income taxes on lavish job perks.
"Now with the trial having ended, we are now moving on to the next chapter," Bragg told The Associated Press in an interview after the tax fraud trial.
The Trump Organization in a statement suggested that Bragg, a Democrat, was trying to undermine Trump's fledgling 2024 presidential campaign. Reviving the investigation years after federal prosecutors had decided not to bring a case is "simply reprehensible and vindictive," the company said.
Bragg's predecessor as district attorney, Cyrus Vance Jr., also examined the hush money payments before shifting the probe's focus to the Trump Organization's tax and business practices.
The Associated Press contributed to this report.
Copyright NBC New York/Associated Press