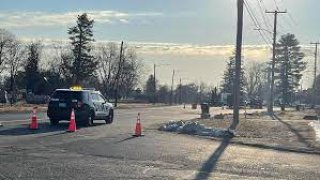 A police officer working a road detail was injured when he was struck by a car on Tuesday morning in western Massachusetts.
Westfield police said on Facebook that one of their officers was hit by a car while working a road construction detail. He was taken to Baystate Medical Center in Springfield. His condition was not immediately known, but police said he is conscious and speaking.
The crash reportedly occurred on Western Avenue near Highland Avenue, according to WWLP. A section of Western Avenue was temporarily shut down as a result of the crash investigation, causing some traffic delays.
"As the New England road work season bears down upon us, we want to remind everyone to stay vigilant when entering into the work area," Westfield police added. "We know that sometimes it can get confusing, but stay alert and travel slowly while navigating the areas, so that you, the workers and officers can return to their families, in the same condition they arrived in."