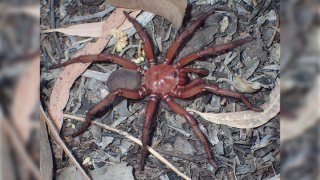 Researchers in Australia have made a big discovery: a super-sized species of trapdoor spider found only in Central Queensland.
The arachnid has been dubbed Euoplos dignitas, a name "derived from the Latin dignitas meaning dignity or greatness, reflecting the impressive size and nature of the spider," scientists with the Queensland Museum said in a statement.
The spider lives in open woodland habitats and builds its burrows in the black soils of the Brigalow Belt in Central Queensland, which is on the northeastern coast of Australia.
For more on this story, go to NBC News.