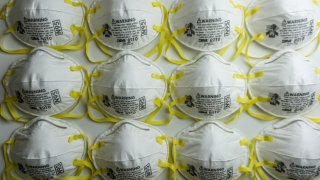 A Houston man pleaded guilty in a scheme to defraud the Australian government of $317 million by selling millions of N95 masks he never possessed, federal authorities said Tuesday.
Arael Doolittle, 56, struck a deal to sell 50 million N95 masks made by 3M to Australian officials, "but authorities disrupted the transaction before it was complete," according to a statement from the U.S. Attorney's Office in the Southern District of Texas.
Authorities said Doolittle "actually did not possess" the millions of masks he told Australian officials he would provide.
Doolittle, who is in custody, faces up to five years in federal prison, officials said, and a possible $250,000 fine. His attorney, Kevin McGuire Cobb, declined comment Wednesday.