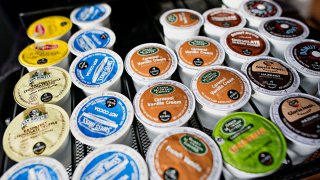 A 2018 class action lawsuit alleged that Keurig engaged in "unlawful, unfair, and deceptive business practices" when they advertised and labeled their K-Cups as recyclable. In reality, most regional recycling facilities weren't able to process the K-Cups due to either their material classification or small size, meaning the cups were not, effectively, recyclable, the lawsuit alleged.
Without admitting any wrongdoing, the company agreed in February 2022 to a $10 million settlement.
How Much Money Could I Get From the Keurig K-Cup Recycling Suit Settlement?
If you purchased K-Cup single-serving coffee pods labeled as "recyclable" between June 8, 2016, and August 8, 2022, in the U.S. for personal, family, or household purposes, you are eligible to claim money from the settlement, according to the lawsuit website. How much you are eligible for depends: for every 100 pods purchased during the time period, each household is eligible to claim $3.50. You must provide proof of purchase, and the maximum claim amount is set at $36. There is also a minimum claim amount set at $6.
Those without proof of purchase may still be eligible for a $5 cash payment.
In order to receive a payment, you must complete this claim form and submit it online no later than 11:59 p.m. PT on Monday, Jan. 9, 2023. You can also download the claim form, fill it out, and mail it to:
Smith v. Keurig Green Mountain
c/o Kroll Settlement Administration LLC
P.O. Box 225391
New York, NY 10150-5391
Claim forms submitted by mail must be postmarked on or before Jan. 9, 2023.
For more information, visit the settlement website.