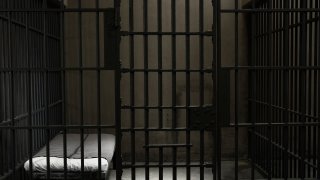 Two men who escaped from a jail in Newport News, Virginia were recaptured less than 12 hours later at an IHOP one city over, the Newport News Sheriff's Office said on Tuesday.
The inmates, John Garza and Arley Nemo, were found missing during a head count at the Newport News Jail Annex on Monday night, the NNSO said in a news release.
When their disappearance around 7:15 Monday night was investigated, authorities found that the two men "had tunneled through a cell wall leading to the exterior and proceeded to scale the security wall," the NNSO said.
According to the NNSO, Garza and Nemo used "a construction design weakness" to their advantage, creating a hole in the wall with "primitive-made tools" made out of "a toothbrush and a metal object."
"Those tools facilitated their access to untied rebars between the walls," the NNSO said, which they then moved to escape through the hole of the cell wall and climb over the security wall.
Members of the Sheriff's Office and the Newport News Police Department began a search for the two men.
At around 4:20 a.m. on Tuesday, the two inmates were found at an IHOP restaurant in Hampton, Virginia, the neighboring city to Newport News.
Both cities are in the Hampton Roads region of the state. The Newport News Jail is about six and a half miles away from the IHOP in Hampton, a roughly two hours and 15 minute trip when travelling by foot, according to Google Maps.
Hampton police arrested Garza and Nemo at the IHOP, and both men are in custody in Newport News once more, the NNSO said.
Garza "has been in custody since December 19, 2022 on charges to include contempt of court, probation violations and failure to appear," the NNSO said. He is 36 years old.
Nemo "has been in custody since October 7, 2022 on charges to include credit card fraud, credit card larceny, forgery, possession of burglary tools, grand larceny, contempt of court and probation violation," the NNSO said. He is 43 years old.
News4 has reached out to the NNSO for more information.