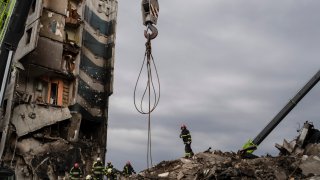 BORODIANKA, Ukraine — Firefighters continued searching Saturday for survivors or the dead in the debris of destroyed buildings in a northern Ukrainian town that was occupied for weeks by Russian forces.
Residents of Borodianka expect to find dozens of victims under the rubble of the several buildings destroyed during fighting between Russian forces and Ukrainian troops. The town is about 75 kilometers (47 miles) northwest of the capital of Kyiv and had more than 12,000 residents.
Russian troops occupied Borodianka while advancing towards Kyiv in an attempt to encircle it. They retreated during the last days of March following fierce fighting. The town is without electricity, natural gas or other services.
A 77-year-old resident, Maria Vaselenko, said her daughter and son-in-law's bodies have been under rubble for 36 days because Russian soldiers would not allow residents to search for loved ones or their bodies. She said her two teenage grandchildren escaped to Poland but are now orphans.
"The Russians were shooting. And some people wanted to come and help, but they were shooting them," she told The Associated Press. "They were putting explosives under dead people."
This is a live update. Click here for complete coverage of the crisis in Ukraine.