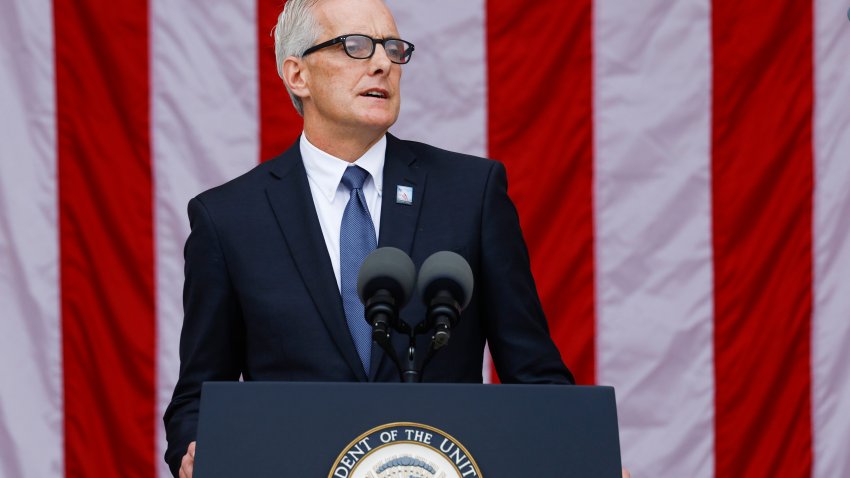 The Department of Veterans Affairs is forming a new team to examine why Black veterans received disability and other military benefits at a lower rate than white veterans, an issue covered in a series of NBC reports this week. 
The new equity team will look at training, outreach and other policies across the VA to ensure that all veterans receive benefits they have earned and eliminate disparities based on race, according to VA Secretary Denis McDonough.
"I have acknowledged to you that we have not always kept that promise especially when it comes to delivering care and benefits to Black veterans," McDonough said at a press conference Thursday. "And we've been wrestling with disparities based on race and VA benefits decisions and military discharge status."
President Joe Biden ordered the creation of equity teams at federal agencies in an executive order issued Feb. 16. The executive order, "Further Advancing Racial Equity and Support for Underserved Communities Through the Federal Government" is the second from Biden to address discrimination.
Last year, a Vietnam veteran, Conley F. Monk Jr., sued the VA over racial disparities in how the Department of Veterans Affairs administered veterans' benefits programs. Monk was diagnosed with PTSD by a psychiatrist in 2011, according to his lawsuit, which was filed in November and alleges that he was improperly denied benefits for nearly 50 years. Monk's legal team obtained records from the Department of Veterans Affairs showing that between 2001 to 2020, the average denial rate for disability compensation was 29.5% for Black veterans and 24.2% for white veterans. His legal team says that is a statistically significant difference.
McDonough said that one issue that the team would address was the difference in approval rates for claims of post-traumatic stress disorder between Black and white veterans. White veterans have been approved at a higher rate, the secretary said.
Monk was featured in the NBC report, which included an article published on Monday about how the country is still grappling with wide differences in the way in which GI Bill benefits and disability payments were awarded to Black and white veterans beginning in the post-World War II period. The effects of the discrimination are still felt today in the wealth gap between Black and white Americans especially, according to historians such as Richard Rothstein, a former New York Times education columnist who wrote, "The Color of Law: A Forgotten History of How Our Government Segregated America."
The VA has not been able to say how many Black veterans were victims of discrimination by the department.
Asked how it would right a wrong if it did not know how many veterans were affected, McDonough said the equity team would work to implement procedural, policy, and structural changes to ensure discrimination did not continue to happen.
After World War II, Black veterans especially in the South were excluded from educational benefits under the GI Bill. All-white colleges and universities refused to admit them and they were directed to a small number of underfunded Historically Black Colleges and Universities, or industrial and vocational schools, according to a 2002 working paper from the National Bureau of Economic Research, "Closing the Gap or Widening the Divide: The Effects of the GI Bill and World War II on the Educational Outcomes of Black Americans."
Other veterans reported never hearing back from local VA offices or learning that their paperwork had been lost. Only 6% of African American veterans of World War II earned a college degree compared to 19% of white veterans, according to the GI Bill Restoration Act, a bill that would award those lost benefits to their descendants.
As far as post-World War II housing benefits, federal policies explicitly denied loans to housing developments that sold homes to African Americans.
The day after the NBC reporting appeared, Democratic Reps. James Clyburn of South Carolina and Seth Moulton re-introduced the GI Bill Restoration Act in the House.
McDonough said media coverage from media outlets helped bring the issue to the forefront.
"I commend the role that [the media is] doing giving a voice to veterans and holding us to account," he said.
McDonough said the equity committee would build on work already being done by the VA on inclusion, diversity and equity. It will be created in the coming days.
"The bottom line is this: We won't rest until every veteran gets the world-class care and benefits that they have earned," he said.
You can watch our series of investigative reports here: NBC News Now National, and NBC News Local Stations Bay Area, San Diego, Philadelphia, Connecticut, and Washington D.C.