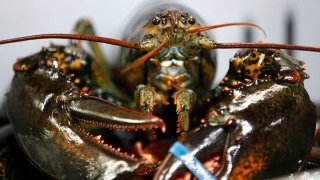 Is there something other than the taste of lobster that compels us to eat the iconic New England food?
That's what novelist Jason Pargin suggested in a recent TikTok video that's gone viral there, with over 400,000 views as of Sunday, and on Twitter, where the video's racked up nearly six million views. It's divided commenters into at least two camps: people who think the real draw of lobster is the cost and the butter it's served with and those who insist it's delicious all on its own.
Pargin's self-described "conspiracy theory," as he outlined in the two-minute video, centers on psychology: "I don't think anyone actually enjoys eating lobster, I think they've just been convinced that it's a high-class food for a really specific reason."
He discusses the well-known history of lobster in the United States going from being used as a fertilizer and food for the poor and prisoners to a luxury. Part of that transition, Pargin suggests, involves the fact that it spoils quickly once it's cooked, so it was rare — and, therefore, expensive.
"So because it was difficult to mess with and because it had to be shipped live inside the country, away from the coast, it became known that lobster was difficult to obtain. And because it's difficult to obtain, it had to be expensive, and because it was expensive, we decided it was good.
"You were eating lobster not because you enjoyed it but because you wanted it to be known to all who were watching you that you could afford lobster," Pargin continues.
He added one more component to the theory — that lobster is usually eaten coated in warm butter.
"You know what also tastes good when you dump it into a bucket of butter? Anything," Pargin says.
The steaming-hot take had people talking in the replies. Some pointed to lobster rolls as a counterpoint, others just to good, fresh Maine lobster.
Food writer James Hansen wrote on Twitter, "you can just say 'i don't like lobster' buddy."
But plenty of people said they felt Pargin's take resonated.
"After seeing lobster in movies and Tv shows my whole life - I thought it must be delicious," one Twitter user wrote, saying he was disappointed by it when he finally tried it and compared lobsters to diamonds: "Bad product, great marketing."
Grace Dent, a British restaurant critic and "Masterchef" commentator who filmed a documentary on the world's most expensive buffets, chimed in with an observation that seemed to validate the notion that, no matter whether lobster is good or bad, people will pay top dollar for it.
"I love this subject. When I made Million Dollar Buffet it came up again and again. Put lobster on a buffet and people will pay $150 dollars," she wrote.