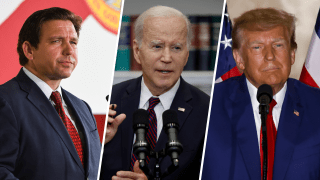 The 2024 election race is quickly approaching as candidates keep emerging for the 60th presidential election in United States history, which will take place on Nov. 5, 2024.
President Joe Biden announced in April that he was running for re-election in 2024, asking voters to let him "finish the job." He will be facing Democratic competitors such as author Marianne Williamson and lawyer Robert F. Kennedy, Jr.
While the Democratic party holds just a few candidacies, a significant number of candidates are lining up to represent the Republican party, including former President Donald Trump, who's planning a comeback bid to the White House.
Here's a list of the official candidates for president in 2024.
DEMOCRATIC CANDIDATES
Joe Biden
President Joe Biden officially launched his re-election campaign on April 25. During his first public appearance after the announcement, he outlined his vision for a second term and asked voters to give him another chance to fulfill unmet promises from his first campaign.
"I said we are in a battle for the soul of America, and we still are," Biden said. "The question we are facing is whether in the years ahead we have more freedom or less freedom. More rights or fewer."
At 80 years old, Biden's age looms as a vulnerability. The oldest president in U.S. history would be 86 at the end of his second term.
Marianne Williamson
Self-help author Marianne Williamson was the first Democrat to formally challenge President Biden for the nomination.
The 70-year-old announced her second longshot bid for president on March 4. In a shift from her more quirky calls for spiritual healing in 2020, this time around Williamson focused on economic justice, corporate power and traditional politicians who gate-keep outsiders.
"I am not naïve about these forces which have no intention of allowing anyone into this conversation who does not align with their predetermined agenda," she said. "I understand that, in their mind, only people who previously have been entrenched in the car that brought us into this ditch can possibly be considered qualified to bring us out of it."
Robert F. Kennedy, Jr.
Robert F. Kennedy Jr. announced he was running for president on April 19 at the Boston Park Plaza Hotel.
Kennedy, 69, a nephew of President John F. Kennedy and the son of his slain brother Robert F. Kennedy, was once a bestselling author and environmental lawyer who worked on issues such as clean water.
But in recent years, Kennedy has been best known for his anti-vaccine advocacy, a position that intensified during the COVID-19 pandemic. His work has been described by public health experts and even members of his own family as misleading and dangerous.
REPUBLICAN CANDIDATES
Here is a list of candidates who have officially joined the Republican race for 2024.
Donald Trump
Former President Donald Trump launched his 2024 campaign on Nov.15, 2022, in a chandeliered ballroom at his Mar-a-Lago country club in Palm Beach, Florida.
The twice-impeached Trump faces charges of high crimes and misdemeanors, and is the first commander-in-chief in American history to be criminally indicted.
Regardless of the ongoing investigations, he confirmed that he will remain in the 2024 presidential race even if he is indicted with criminal charges.
Asa Hutchinson
Former Arkansas Gov. Asa Hutchinson announced his presidential candidacy on April 2, stating that his experience, messaging and hope for the future will resonate with Americans.
Hutchinson, 72, left office in January after eight years as governor. He previously served as President George W. Bush's head of the Drug Enforcement Administration and also as undersecretary of the Department of Homeland Security.
Larry Elder
Conservative talk radio host Larry Elder, known for his failed 2021 attempt to recall California Gov. Gavin Newsom, announced his run for the Republican presidential nomination on April 20.
Elder, 70, made the announcement on Fox News, following up with a tweet: "America is in decline, but this decline is not inevitable," Elder tweeted. "We can enter a new American Golden Age, but we must choose a leader who can bring us there. That's why I'm running for President,.
Elder, who is Black, has criticized Democrats' "woke" agenda, Black Lives Matter and the notion of systemic racism, positions that have put him at odds with many other Black people.
Nikki Haley
Former South Carolina Governor and United Nations ambassador Nikki Haley, announced her candidacy for president on Feb.14, becoming the first major challenger to former President Trump for the Republican nomination.
The ex-Trump Cabinet official who claimed two years ago that she wouldn't challenge her former boss for the White House in 2024 said she changed her mind in recent months, citing the country's economy and the need for a "generational change."
If elected, Haley would be the nation's first female president and the first U.S. president of Indian descent.
Perry Johnson
Republican businessman Perry Johnson announced his long-shot bid for president to a group of supporters on Mar. 3.
Johnson was considered a top 2022 GOP candidate for Michigan governor before he was disqualified because of fraudulent nominating signatures.
Johnson, who was willing to spend millions of dollars on his campaign for the governor's office, said his rights were violated during the process.
Vivek Ramaswamy
Former biotech entrepreneur, author and conservative political commentator Vivek Ramaswamy announced his candidacy on March 10.
He is only receiving 1% of support, according to a CPAC straw poll.
Tim Scott
South Carolina Republican Sen. Tim Scott announced his presidential run on May 22 at his alma mater, Charleston Southern University.
Scott, 57, was first elected to Congress in 2011 and served one term as a congressman before then-Gov. Haley appointed him to the Senate in 2013, becoming the first Black senator from the South since just after the Civil War. He retained his seat after winning a special election in 2014, marking the first Black candidate to win a statewide race in South Carolina since the Reconstruction era.
Scott's campaign said he has around $22 million in cash for the campaign as he launches his bid.
Ron DeSantis
Florida Gov. Ron DeSantis announced his candidacy on May 24 during an online conversation with Twitter CEO Elon Musk in a virtual event riff with technical difficulties.
He later posted a video on Twitter officially launching his campaign, which included criticisms of President Biden, and adding that he wants to lead a "great American comeback."
DeSantis, 44, is considered one of Trump's strongest GOP rivals and a leading figure in the nation's bitter fights over race, gender, abortion and other divisive issues.
Chris Christie
Former New Jersey Gov. Chris Christie is expected to officially launch his second shot for the Republican nomination for president next week in New Hampshire, two sources confirmed to NBC News.
Christie is planning to make the announcement at a town hall at Saint Anselm College's New Hampshire Institute of Politics, according to a person familiar with his thinking who spoke on condition of anonymity to confirm Christie's plans.
Mike Pence
Former Vice President Mike Pence, who certified the 2020 election results under threat from supporters of then-President Donald Trump, launched his 2024 GOP presidential bid on June 7.
Pence is staking his presidential hopes on Iowa as he launches a campaign that will make him the first vice president in modern history to take on his former running mate.
"Different times call for different leadership," Pence said in the video, released via Fox News and Twitter.
OTHER POTENTIAL CANDIDATES
The Republican field is expected to grow in the months ahead as the campaign season kicks into high gear. Some potential candidates who may enter the race include New Hampshire Gov. Chris Sununu, and former National Security Advisor John Bolton.