A few hundred people are marching from Roxbury to downtown Boston in a call for every vote to be counted in the 2020 election, even while key states are still tallying ballots in the presidential race.
The march comes after a rally in Nubian Square, one of several in the Boston area Wednesday as the balance of power in the country remains uncertain, as does the process for completing the election. The Trump campaign had filed election count-related lawsuits in three states by the time the march began, while Joe Biden called for all votes to be counted.
Marchers in Roxbury carried signs that said "Count each vote!" and "Stop Trump's power grab." Beforehand, organizers demanded that participants remain peaceful -- one said in a speech, "We are here to uplift."
Some Boston businesses are boarded up in anticipation of civil unrest over the results, and National Guard units activated earlier in the week were seen in the city Wednesday afternoon. But there's been no violence so far.
Another rally was held on Boston Common Wednesday afternoon. In Worcester, a "Protect The Results - Protect The Votes" rally was held on the steps of City Hall.
While the rally at the Common was going on, President Donald Trump seemed to falsely suggest he had control over the ongoing counts in several swing states. He tweeted that his campaign "claimed, for Electoral Vote purposes," Pennsylvania, Georgia and North Carolina; claiming a state does not affect the vote count, which is run by state officials.
Sen. Ed Markey, D-Mass., attended that rally, which was organized by groups including the ACLU of Massachusetts, the NAACP Boston Branch and the Indivisible Mass Coalition.
"We are going to let them know that -- peacefully -- we will not let him do this, that we are going to stand up and we are going to use every single avenue that is peacefully available ... to stop him in his attempts to steal this election," Markey said.
Participants said they came out to the rally because they wanted to ensure their children have a good future and to make sure all Americans have their voices counted.
The event was one of hundreds slated to happen nationwide organized by Protect the Results, a coalition of groups formed to protect the results of the 2020 presidential election.
PHOTOS: Boston Businesses Board Up Storefronts Ahead of Election Day
Many storefronts in Boston boarded up earlier this week, preparing for the worst after being caught off guard this summer during protests that turned violent. But there was no violence reported Tuesday night or during the day Wednesday.
Increased presence from the Massachusetts State Police and the Boston Police Department has been implemented to maintain order, while Gov. Charlie Baker activated 1,000 members of the Massachusetts National Guard to call on if needed. Armored vehicles were seen in Boston Wednesday afternoon.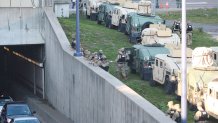 Crews fastened the doors and windows of stores on Boylston and Newbury Streets Monday, while some owners went so far as to hire a security detail.
"I understand what's going on but proving a point doesn't mean break and steal things," crew member Michael Sanchez said as he secured businesses. "At the end of day I'm still working, so it is what it is. But I feel like you can go about it a different way rather than having to board up all of Boston for a couple of days "