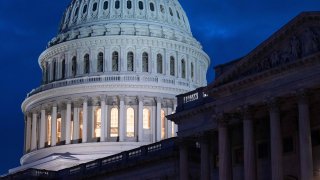 President Joe Biden is set to deliver his second State of the Union address on Tuesday night.
The annual speech, delivered before a joint session of Congress, typically provides a president with his single largest audience of the year, usually in the tens of millions. An estimated 38.2 million TV viewers watched Biden's first State of the Union address in 2022, according to Nielsen ratings.
A key difference between this year's speech and last year's is that Biden now faces a divided Congress for the final two years of his term. Republicans took back control of the House from Democrats in the 2022 midterm elections, while Democrats continue to hold the Senate.
Here's what you need to know about watching Biden's State of the Union address, scheduled for 9 p.m. EST.
Where do I watch or listen?
The speech is set for 6 p.m. PST (9 p.m. EST) and will be broadcast by the major networks and cable news TV channels, including NBC and Telemundo. Tune in on television or check back here or on Peacock to watch a livesteam.
The White House plans to stream it at WH.gov/live, as well as on its YouTube, Facebook and Twitter pages. Live radio coverage will also be provided by C-SPAN Radio.
What will Biden talk about?
President Joe Biden is ready to offer a reassuring assessment of the nation's condition rather than roll out flashy policy proposals as he delivers his second State of the Union address seeking to overcome pessimism in the country and concerns about his own leadership.
His speech before a politically divided Congress comes Tuesday night as the nation struggles to make sense of confounding cross-currents at home and abroad — economic uncertainty, a wearying war in Ukraine, growing tensions with China among them — and warily sizes up Biden's fitness for a likely reelection bid.
The president will stand at the House rostrum at a time when just a quarter of U.S. adults say things in the country are headed in the right direction, according to a new poll by The Associated Press-NORC Center for Public Affairs Research. About three-quarters say things are on the wrong track. And a majority of Democrats don't want Biden to seek another term.
Biden will aim to confront those sentiments head on, aides said, while at the same time trying to avoid sounding insensitive to Americans' concerns.
Read more about topics the president will likely cover here
How will Republicans respond?
Arkansas Gov. Sarah Huckabee Sanders has the assignment. Huckabee was previously a White House spokeswoman under former President Donald Trump
Sanders, the first woman elected governor of Arkansas, said she relished the opportunity to contrast the GOP's vision for the future against that of Biden and his fellow Democrats, and is expected to focus on cultural touchstones, where the GOP has gained ground among conservative voters.
"We are ready to begin a new chapter in the story of America — to be written by a new generation of leaders," she said.
The daughter of former Arkansas Gov. Mike Huckabee, Sanders has signed several executive orders that have been cheered by conservatives since taking office last month. They include restrictions on public schools teaching critical race theory and a ban on TikTok on state devices.
What about the First Lady?
Jill Biden will take her customary seat in the gallery overlooking the House chamber with a group of in-person guests.
Rock star Bono, the 26-year-old who disarmed a gunman in last month's Monterey Park, California, shooting, and the family of Tyre Nichols will be among the featured guests sitting alongside the first lady at Tuesday's State of the Union address.