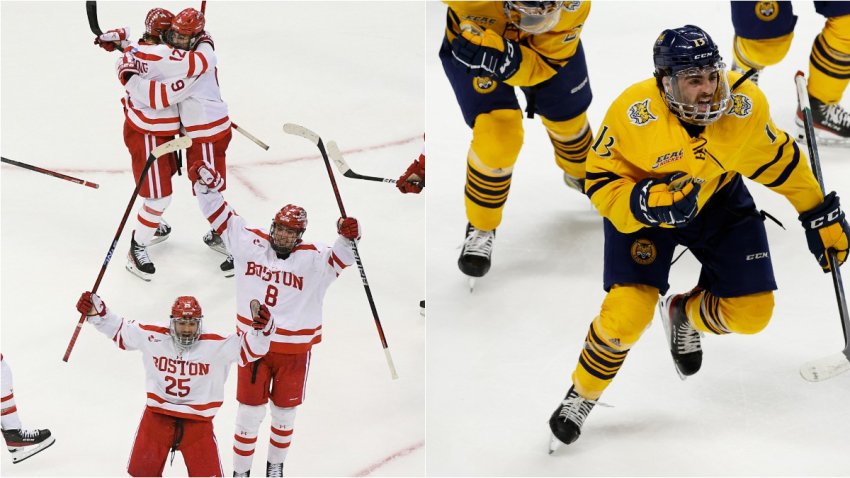 New England and midwestern colleges will battle it out on the ice in the NCAA Frozen Four in Tampa, Florida.
Boston University and Quinnipiac University are competing on either side of the bracket, hoping to play each other in the final.
"I think we also know that the job isn't finished," said Quinnipiac University men's hockey forward Collin Graf.
The native of Lincoln, Massachusetts, is focused — two more wins and he and his teammates win the first-ever national men's hockey title for the university.
He says it's something the team wants to accomplish.
"Going into the year, as our captain said, the goal was Frozen Four," he said. "I think that we want it. We really want to be that first team to get that national championship … the last few times, they went down and lost in the final. So we're just trying to be a team that could finally make the jump and bring the national championship back to Hamden."
The team getting a send-off from campus this week. Joining them at Amalie Arena in sunny Tampa is Boston University.
Local
In-depth news coverage of the Greater Boston Area.
"The past couple of weeks have been really special," said Sam Stevens, a forward on Boston University's men's hockey team. "That's why you come to BU: To win and play in these big games."
Stevens, a senior from Montreal, says after a college career full of COVID delays and a season that didn't start the way players wanted, they are now at the top of their game.
"We didn't have the showing we wanted in the Beanpot, then we didn't win in Arizona, so I think those were two great learning experiences for our group," Stevens said. "Kind of brought us all together."
He also credits die-hard fans for lifting the team.
"I think we have the best fans and in college hockey, and they were a big part of all of our success this year," he said. "I've been really fortunate."
The Boston University Terriers face Minnesota Thursday at 5 p.m. The Quinnipiac Bobcats face Michigan at 8:30 p.m. Thursday. The National Championship match is Saturday at 8 p.m.