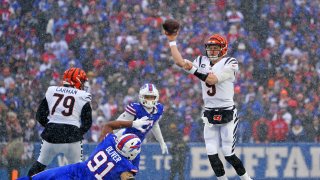 Joe Brr and the Bengals are thriving in the cold.
In snowy conditions at Highmark Stadium, No. 3 Cincinnati jumped to a hot start over the No. 2 Buffalo Bills.
On their first possession, the Bengals leapt down the field on a six-play, 79-yard drive to score the game's opening touchdown.
On a second-and-three from the Bills' 28-yard line, Burrow stepped up into the pocket to elude pressure and lobbed a pass to Ja'Marr Chase, who was wide open at the nine-yard line between the numbers. Chase turned upfield and split two defenders to cap the play.
Buffalo failed to respond, punting after an uninspiring three-play, six-yard drive. Burrow and Co. had no troubles navigating downfield in frozen conditions. On a third-and-seven from 15 yards out, Burrow found tight end Hayden Hurst wide open in the end zone on a wheel route to go up 14-0.
At that point, Burrow completed all nine passing attempts for 105 yards and two touchdowns.
Buffalo went three-and-out again, this time collecting just five yards before punting. Fortunately for the Bills, their defense forced a crucial stop that flipped the momentum in their favor.
Josh Allen and Co. assembled a much-needed 75-yard drive that took 15 plays to find the end zone. On a third-and-goal just inches away from scoring, Allen took home a quarterback sneak to get Buffalo on the board, with Damar Hamlin applauding them on from inside the stadium.
Cincinnati showed immense poise to respond with another double-digit-play drive of its own, tallying 65 yards on 14 plays. For a moment, Chase appeared to haul in his second touchdown of the day, but it was overturned after Bills linebacker Matt Milano stayed with the play and disrupted Chase's possession of the ball. Evan McPherson then came out to convert a 28-yard field goal with 1:49 on the clock.
A Cincinnati win would mean the AFC Championship Game against the Kansas City Chiefs would take place at GEHA Field at Arrowhead Stadium. A Bills' comeback would alter the location to the neutral site of Mercedes-Benz Stadium in Atlanta, Ga.