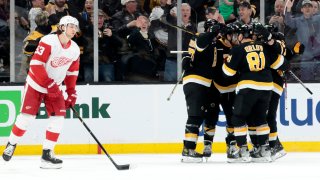 Bruins make NHL history with comeback win over Red Wings originally appeared on NBC Sports Boston
The 2022-23 Boston Bruins' historic season continued with Saturday's comeback win over the Detroit Red Wings.
Boston overcame an early two-goal deficit to beat Detroit, 3-2. Garnet Hathaway, acquired alongside Dmitry Orlov in the pre-trade deadline deal with the Washington Capitals, scored the game-winner which also marked his first goal as a Bruin.
The victory makes the B's the fastest team in NHL history to win 50 games. It took them only 64 games to accomplish the feat as they improve to 50-9-5 on the campaign. The previous record (66 games) was held by the 2018-19 Tampa Bay Lightning and 1995-96 Red Wings.
The Bruins also clinched a spot Saturday night in the 2023 Stanley Cup Playoffs.
Copyright RSN