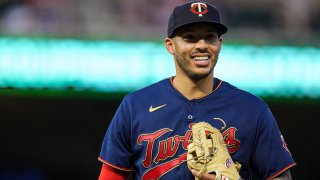 Report: Mets 'very frustrated'; Correa deal could fall apart originally appeared on NBC Sports Bayarea
There seemingly is no end to free-agent shortstop Carlos Correa's fascinating offseason.
The New York Mets reportedly are growing "very frustrated" with the ongoing Correa negotiations and are considering an exit from the sweepstakes.
SportsNet New York's Andy Martino reported Friday, citing sources, that both sides believe there still is a "strong chance of reaching an agreement," but the Mets now are seriously pondering walking away.
The Mets agreed to sign Correa to a 12-year contract worth $315 million on Dec. 21, just hours after the Giants delayed Correa's introductory press conference and backed away from their 13-year, $350 million agreement. But just like the Giants, the Mets have raised concerns over an ankle injury that have complicated their 12-year contract.
While Correa and the Mets endure complicated discussions, Jon Heyman of The New York Post reported Thursday that other teams have been in contact with the shortstop's camp. That list included the Minnesota Twins, who signed Correa to a three-year contract last offseason with player options that he utilized after the 2022 MLB season in search of a long-term contract this winter.
"[The Twins] are still involved in Correa, and they've got a shot here," former MLB executive Jim Bowden said Friday on MLB Network Radio. "I think they are willing to do a little more of a risk on the medicals than either the Giants or Mets were in terms of years and dollars.
"I don't think this is going to go on forever, but the Minnesota Twins are, yes, they back front and center in this Carlos Correa thing. … There is a possibility here that the Minnesota Twins come in and just pick out Correa right under the New York Mets' noses."
As of Friday morning, the Giants remain mum on re-entering the Correa sweepstakes and have not been reported as one of the teams to once again reach out to Correa's camp.
When complications with the Mets agreement first emerged, San Francisco president of baseball operations Farhan Zaidi spoke to reporters and cooled off speculation that Correa somehow could land with the Giants this offseason.
"Our understanding, and it has been reported elsewhere, is that they're focused on a deal elsewhere at this point," Zaidi said Dec. 30. "I think the chances of a deal with us at this point are pretty unlikely based on their position."
But as we've learned during this unpredictable drama, nothing is out of the question.
Copyright RSN