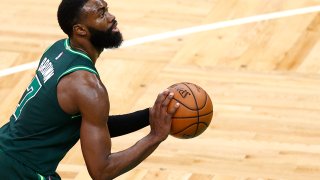 Boston Celtics star Jaylen Brown is out for the rest of the 2020-21 season with a wrist injury that requires surgery, the team said Monday.
They released this statement: "This past weekend Celtics forward Jaylen Brown was diagnosed with a torn scapholunate ligament in his left wrist. Brown is expected to have the torn ligament surgically repaired later this week, and will be out for the remainder of the 2020-21 season."
Brown had missed several games with an ankle sprain.
The development leaves the Celtics without one of their most productive players as they fight for a place in the postseason. The team is 35-33 and sitting in seventh place, just outside of the guaranteed playoff positions.
If the Celtics finish in seventh, they'd have the top seed in the play-in tournament for entry into the true playoffs.
In the year he first went to the All-Star Game, Brown averaged 24.7 points per game this year, the 17th most in the league, off 34.5 minutes per game. He's been especially good at shooting from mid-range in the NBA this year, hitting 50% of the shots -- tied for fourth best in the league.
The Celtics are due to play the Heat in Boston Tuesday.