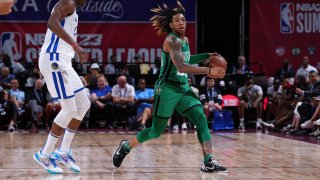 The NBA Summer League is still underway, but as we hit the halfway point, it's apparent that Celtics fans have a lot to be grateful for. 
Despite losing to the Warriors in the 2022 NBA Finals, the future is bright in Boston. Star Jayson Tatum spoke to the media at halftime of Boston's game against Miami Saturday and reflected on the way the season ended.
It may be the NBA's offseason, but there was a lot to learn at the tournament — the 2-1 Celtics face the Memphis Grizzlies Thursday. Here's what I saw in Las Vegas:
Looking to the future
With the No. 53 pick in the 2022 NBA draft — the Celtics' only one — Boston took JD Davidson, a combo guard out of the University of Alabama.
On Saturday, Davidson confirmed he had signed a two-way contract with Boston and it sounds like Tatum has already helped welcome him into the league.
Malcolm Brogdon or Barack Obama?
That same day, the team announced the acquisition of Malcolm Brogdon from the Indiana Pacers. In return, Boston gave up Daniel Theis, Aaron Nesmith, Malik Fitts, Juwan Morgan, Nik Stauskas and a 2023 first round pick.
A day after his introductory presser, a Celtics fan on Twitter noted Brogdon sounds a lot like former President Barack Obama.
The Celtics point guard confirmed it himself:
From delivering food to delivering buckets
An inspiring story came from Celtics prospect Matt Ryan. (No, not the Indianapolis Colts and formerly Atlanta Falcons quarterback.)
Minutes after making a clutch shot and securing a 111-109 win over Milwaukee, Ryan opened up about the journey that got him to that point over the last year, and got a bit emotional.
Grant Williams enjoys *friendly* trash talk: