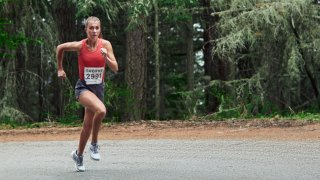 Trust the process.
That's the mantra 24-year-old Katie Rainsberger lives by when preparing for World Championship races and Olympic trials.
Training from the high altitudes of Colorado Springs, Colo., Rainsberger knows what it takes to be a professional athlete, considering her mother, Lisa, is a former distance star who won the Boston Marathon in 1985, Yes, she won the marathon. That is something you don't hear very often.
It's quite the accolade to have to live up to, so it's safe to say her mother's success motivates Rainsberger in her endeavors as a runner striving to compete in the 2024 Paris Olympics. 
"It's a lot less spoken and more of a mutual understanding and an immense amount of respect because we both know what it takes to be athletes at this level," Rainsberger said when talking about how her mother's experience rubs off positively on her daily training regime.
Rainsberger has a can-do, will-do attitude, which doesn't seem to budge.
The University of Washington graduate, who is currently studying for her master's degree in Applied Physiology, runs 80 to 90 miles every week in the midst of her academic expectations, which consists of classes three days a week.
I know what you're thinking … How does someone do this? How does someone do everything? And not only that … Rainsberger does everything well. Better than well. She is an up-and-coming superstar.
Why running?
Rainsberger's career began unexpectedly. 
Growing up she attended countless races with her mother, who was a top-ranked long distance runner in the 1980s.
"She'd get a trip out of it and she'd bring me with her," Rainsberger said, when referencing where she first got her taste of running.
Though her mother was a superstar, Rainsberger was into something different – soccer. 
"In middle school my email was 'Katie the soccer girl,' that was my track," she laughed. "I had no real interest in running. I thought it was kind of my mom's thing."
Things changed in middle school when Rainsberger's school no longer offered soccer in the fall. Her parents, who urged her to do a sport at school each semester, suggested running and that's where it all started.
"I won the first race that I ran," she said. "It just clicked."
Though, Rainsberger didn't take it seriously. That is, until she was invited to a race out in Seattle where she clocked a 4:40 mile. Instantly, a dozen colleges offered Rainsberger a spot on their collegiate team and that's when she knew everything was about to change.
How has Rainsberger fared in her running career so far?
During her career at Air Academy High School, Rainsberger won 10 state titles in cross country and track and field in a two-year span (2015-2016) and went on to clinch victories in the 800,1,600 and 3,200 meters at the 2016 Colorado State Meet. She was undefeated as a senior – soon to become a 13-time All-American athlete.
The 5-foot-9 talent recorded the fifth-fastest prep mile time ever at 4:40.92, which earned her the 2015 Track and Field News All-America honors. The following year, Rainsberger clocked the sixth fastest high school time for the 1,500 meters at 4:12.62 at the 2016 Portland Track Festival.
Rainsberger led the Nike Cross Nationals cross country event, was awarded the national Gatorade U.S. Cross Country Runner of the Year in 2015 and set the high school female record in the cross country 5k.
At this point, the college offers were flooding in at an inconceivable rate. The young star started her collegiate career at the University of Oregon, where she managed to finish third at the Pac-12 Championships in 2017 and earn first-team All-American honors in the 1,500 meters after clinching fourth at the NCAA Championships. Rainsberger earned Pac-12 Freshman of the Year and first-team All-Pac-12.
Her sophomore year on the team was nothing short of extraordinary. Rainsberger led Oregon in every invitational throughout the season, earning top-20 finishes in every single race she ran. She earned first-team honors for the second consecutive year and finished second overall at the Pac-12 Championships in 2018.
Tragedy struck the speedster later that season when she suffered a torn achilles, which ultimately threw a wrench in her plan. She still competed, but things were nowhere near where they had been. In the fall, she healed up, transferred to the University of Washington, and continued to flourish as the superstar she was born to be.
So, what about the Olympics?
Rainsberger made her first junior national team as a junior in high school where she ran in the World Athletic Cross Country Championships in China and the Pan American Games in Colombia. As a senior, also on the junior national team, Rainsberger competed in the Junior World Track and Field Championships in Poland and the North American Continent Championships.
She placed seventh and set the junior American record for the 3k when she was a senior in high school, running nine minutes flat.
"I think at that point I was like 'OK I'm on the trajectory of hopefully going from the junior national team to making a senior team or a World Championship'," Rainsberger said.
Since then, the speedster has competed on her first senior national team and hopes to make the U.S. national team when Paris qualifications come around.
What does Rainsberger's training regime look like?
So, how does she do it? Here's a little play-by-play of Rainsberger's day:
Morning run
Morning workout (lift session three times per week)
Mobility
Lunch
Nap
Evening Run
Dinner
Sleep (9-10 hours)
Fall is a heavy training period because not only does Rainsberger run 80 to 90 miles a week, but she also attends class three days a week.
"The thing is, everyone works really hard at this level," the athlete admitted. "I hone my focus in process-oriented goals, rather than solely being focused on one outcome," that way she gives herself the best chance at succeeding without discouragement.
What does health and wellness look like for Rainsberger?
Supplements, supplements, supplements.
That is the Katie way.
She highlighted numerous dietary supplements and vitamins when I asked how she tends to her health and wellness, all products being that of Thorne, a health technology company that prioritizes personalized, scientific wellness by providing products to support specific health needs.
"I can't run like my 15-year-old self anymore," admitted Rainsberger. "A lot goes into it behind the scenes. It takes a huge toll on your body and I think one of the main reasons I was able to stay healthy in my first year as a pro is because I did have a lot of the supplements Thorne provides."
Rainsberger takes Thorne's multivitamin, Magnesium, Super EPA (Omega 3), Zinc, Vitamin D, Iron, Melatonin, Collagen and Whey protein.
"As a female athlete who is regularly menstruating and living at high altitude, it's a pretty key part of my training," Rainsberger said when speaking about her Super EPA and Zinc regime, which helps with bloating and cramping.
What competitions does Rainsberger have coming up?
I know the question you're all wondering … Will Rainsberger be competing at the 2024 Paris Olympics? That was my paramount query when interviewing the Colorado native. Unfortunately though, the answer is not that simple.
First of all, the Olympics are over a year out, and second, runners do not find out if they qualify until right before the torches are lit. There's still a ways to go – but regardless, Rainsberger is and will continue to be training with hopes of representing Team USA in France next summer.
After all, it is her dream.
During eighth grade in the summer, Rainsberger traveled to London to see the Olympics in 2012 with her family. Her mother taught running clinics for inner-city youth so the Rainsbergers packed up and spent a month in the U.K. where they watched endless track meets, swim races and volleyball matches.
"Being there for a month and being in that atmosphere … That's what I wanna do," Rainsberger recalled.
Though Rainsberger won't know her Olympic fate for quite some time, she does appreciate the myriad of opportunities in store to act as preparation for the Games. With the 2020 Tokyo Winter Olympics being postponed due to COVID-19, lots of competitions got pushed back. 
This year, athletes have five huge competitions five years in a row, including the Olympics, two World Championships, another Olympics and then another World Championship.
"There is a lot of international competition in the next coming years so a lot of good opportunities to make senior teams," added the athlete.
Does Rainsberger capitalize on social media?
For Rainsberger, social media is a double-edged sword. She likes it, but she also carefully avoids it when in the midst of competition. The disciplined athlete knows the detriments the social media stratosphere can have on young people looking to compete, including the risk of irrevocable comparison and self-discouragement. 
"Everyone works really hard at this level," Rainsberger said, so perturbation is inevitable. "There's always nerves involved when you're competing at a high level. You put a lot of your life and soul into this one goal. Anyone who tells you differently is either lying to themselves or to you."
But like I said, to Rainsberger, social media has its benefits.
"It's kind of evolving, isn't it?" she suggested. "At first it was this fun platform and then it became business-like and now there is this sub trend where people want to be more authentic."
Rainsberger advocates for Voice In Sport, a platform aimed to connect female athletes and raise awareness around women's equality in sports.
"I'm just trying to find a balance between being authentic but also using the platform to its advantages."
After all, social media promotion is sort of a "job requirement" for Rainsberger – considering the several partnerships she is involved in, including New Balance and Thorne. 
"This is all part of my daily journey. I have partners who support me on my end. I am able to do what I love because of their support," Rainsberger said, so she often asks herself, "How can we work together for this mutual benefit?"
What does Rainsberger's future look like?
"The goal is to make teams," Rainsberger said, like the upcoming World Championships, the 2024 Paris Olympics and the 2028 Los Angeles Olympics. "If I keep focusing on the things in my control, I will give myself a really good opportunity to make those teams."
But Rainsberger knows she can't run forever – at least not competitively. 
As aforementioned, Rainsberger intends to devote her life to academics once she is no longer competing. She graduated from the University of Washington in Seattle in 2021 and is currently in the midst of completing her master's in Applied Physiology. Rainsberger intends to study research at the U.S. Olympic & Paralympic Training Center for professional athletes in Colorado one day.
"I will run for as long as I can and one day, I will use my degree for good," Rainsberger added.