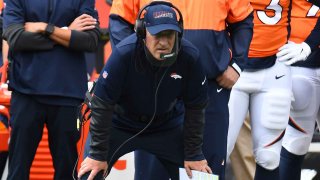 Conflicting reports on Vic Fangio's future originally appeared on NBC Sports Chicago
On Sunday it appeared that former Bears defensive coordinator Vic Fangio is set to become not only the next defensive coordinator for the Dolphins, but the highest-paid coordinator in the league. But on Monday morning a new report came out saying the deal isn't quite done yet.
Tom Pelissero initially broke the news that would be headed to Miami after spending the 2022 season as a consultant for the Eagles.
Mike Silver was the man who jumped in and told everyone not to get ahead of themselves.
Both the Dolphins job and 49ers job are intriguing for an incoming DC. The 49ers of course just played in the NFC Championship game and have top-flight defensive players on the roster like Fred Warner and Nick Bosa. Meanwhile the Dolphins are on the up-and-up and feature young players with high upside, like Jaelan Phillips, Jevon Holland and Christian Wilkins.
Fangio spent four seasons with the Bears from 2015-2018 and earned praise for leading one of the best Bears defenses in franchise history. He was the head coach for the Broncos from 2019-2021, and although his teams had poor records they almost always had above average defenses.
Copyright RSN