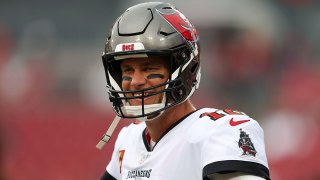 Breer: Why Dolphins are an intriguing destination for Tom Brady originally appeared on NBC Sports Boston
What's next for Tom Brady?
That's become an increasingly interesting question as the 45-year-old quarterback nears the end of his 23rd NFL season. It appears all options are on the table for Brady, who could A) decide to retire for good, B) re-sign with the Tampa Bay Buccaneers for a fourth season, or C) sign with a new team in 2023.
Option C is the most intriguing, with destinations like San Francisco and Las Vegas being floated as possibilities. But The MMQB's Albert Breer believes the Miami Dolphins could be a strong draw for Brady if he decides to keep playing.
"I do actually think his kids are a factor," Breer said Sunday on NBC Sports Boston's "Patriots Pregame Live." "The fact that he's got one kid in New York and two in Miami, he's displaced from all three of them, I think that matters. That's why the Miami situation is so interesting.
"He almost went there a couple years ago. He's got a relationship with some people in that building: (Dolphins minority owner) Bruce Beal, (majority owner) Stephen Ross. The coach I think would be a great coach for him: Mike McDaniel, the kind of coach I think he'd have a good rapport with. And then you look at the talent there, the talent's in place there too. So, geographically, Miami makes sense."
Brady and Gisele Bundchen finalized their divorce in October, and the pair have two children together who reside in Miami. Brady also has a son with actress Bridget Moynihan who resides in New York. As Breer notes, Brady may desire to stay on the East Coast, and playing in Miami would allow him to be very close to two of his children.
The Dolphins' previous interest in Brady is well-known: Miami was disciplined in August 2022 for making impermissible contact with Brady in both 2019 and 2020 while he was still under contract with the New England Patriots. Brady and Ross are both Michigan alumni, and there were rumors of Brady potentially buying a stake in the Dolphins in February 2022 amid reports that Ross could be forced to sell the team in the wake of Brian Flores' lawsuit against Miami.
So, there's plenty of familiarity between Brady and the Dolphins. The question is whether Miami would want to part with current starter Tua Tagovailoa, who has enjoyed a career season throwing to speedsters Tyreek Hill and Jaylen Waddle but has suffered three concussions already this season.
Check out the video above to hear Breer, Tom E. Curran and Matt Cassel make their predictions on where Brady will end up in 2023.
Copyright RSN