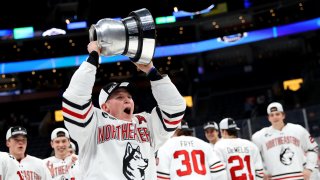 The upcoming editions of The Beanpot were called off Monday, the coronavirus pandemic impacting one of college hockey's most beloved traditions.
TD Garden arena announced Monday that the annual men's hockey tournament played between Boston University, Boston College, Harvard and Northeastern won't be held in February 2021. Instead, the 69th edition of the Beanpot is now scheduled for February 2022.
It will be the first time the men's tournament won't be played in a season since its inception in 1952-53. The women's version, set for its 43rd edition, was canceled as well.
Winning the trophy offers major bragging rights for the college, and it's intense rivalries. Boston University has won the men's tournament the most, 30 times, but Northeastern University won the last three, including an instant-classic double-overtime win over BU last year.
Stay informed about local news and weather. Get the NBC10 Boston app for iOS or Android and pick your alerts.
Northeastern is also the reigning champions on the women's side, wresting the trophy away from BU in its own classic double-overtime win on BU's home ice.
The Huskies were slated to host this year as the tournament rotates between the four schools each year on the women's side.
The decision to cancel the tournaments for 2021 hardly comes as a surprise after Hockey East Commissioner Steve Metcalf said last week it seemed "very unlikely" the game would be played last year, according to College Hockey News.
Additionally, the Ivy League canceled all winter sports for this season, including hockey, ESPN reported, taking Harvard out of the fold, even though the Crimson and their Ivy counterparts play hockey as part of the ECAC.
Those moves came because of the current surge in virus levels in Massachusetts and around the country.
A month after Northeastern hoisted the Beanpot trophy, Massachusetts went into lockdown to stop the spread of the virus. By late spring, virus levels were down statewide, but the state is experiencing a new surge this fall.
Additionally, hockey has been linked to coronavirus outbreaks in New England, prompting interstate high school play across the region to be suspended last week.
The Beanpot is a storied tradition for hockey fans around New England and across the country.
Watching Boston College win the 2011 tournament prompted current NHL star Johnny Gaudreau to decommit from Northeastern and commit to them, he told nhl.com in 2017.
Jimmy Hayes, who played in that tournament before going on to an NHL career himself, said for that story that getting to take part is "just a dream come true for a local kid."
Coverage of Past Beanpots