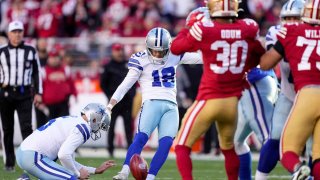 The postseason blues continue to plague Dallas Cowboys kicker Brett Maher.
After going 1-for-5 on PATs during last weekend's 31-14 wild card win over Tampa Bay, Maher stepped up Sunday against the San Francisco 49ers for the chance at redemption and to put his team up 7-3, only to have his attempt blocked by 49ers linebacker Samson Ebukam.
A replay of the attempt showed that Maher's kick looked to be going wide left regardless of the block.
Heading into the playoffs, Mahers had made all but three of his 53 extra point attempts and gone 29-for-31 on field goals in the regular season.
That consistency, however, is nowhere to be found this past week. Rather, the 33-year-old continues to find himself on the wrong side of a number of historic records.
His four missed PATs last weekend was the most by any player in a regular or postseason game since 1932. His five misses over two games is also the second-most postseason misses by any player in NFL history.
This historically bad performance labeled him with a case of the yips and has been closely monitored this past week. Despite maintaining that they were standing by Maher, Dallas picked up Tristan Vizcaino on Wednesday as another kicking option. Vizcaino started his career with the 49ers back in 2020.