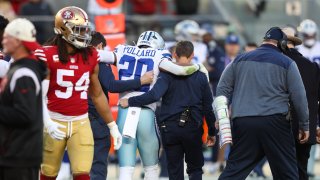 Running back Tony Pollard is officially out for the remainder of the Cowboys' divisional round game against the San Francisco 49ers. Moments before the second half kickoff, Fox Sports' Tom Rinaldi confirmed that Dallas' leading rusher is out with a high-ankle sprain.
Pollard tweaked his ankle in the final two minutes of the second quarter when 49ers cornerback Jimmie Ward brought him down short of the first down.
He made his way to the medical tent before eventually being carted back to the locker room.
At the time that Pollard went down, he had recorded 22 yards on six carries.
In his fourth season with the Cowboys, Pollard has emerged as one of the key pieces to the Dallas offense. His 1,007 rushing yards this past regular season was good for 16th in the league, and he added another 77 against the Tampa Bay Buccaneers in the wild card game last weekend.
The ball-carrying responsibilities will likely fall on quarterback Dak Prescott and running back Ezekiel Elliott for as long as Pollard remains sidelined.