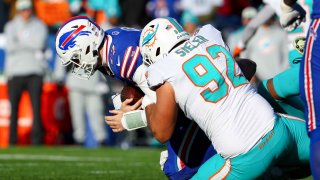 The Miami Dolphins' offense got going late in the first half, and their defense decided to get in on the scoring to start the second half.
Eric Rowe forced a Josh Allen fumble, and Zach Sieler scooped it up and rumbled into the endzone with a go-ahead touchdown.
The play marked Sieler's first career NFL touchdown and gave the Dolphins their first lead of the game at 24-20.
Miami has already forced Allen into three turnovers. Xavien Howard and Jevon Holland intercepted him in the first half before Rowe ripped the ball out of his arms on the Bills' first offensive play in the second half.
With 24 points in an eight-minute span, the seventh-seeded Dolphins officially have the second-seeded Bills on upset alert.