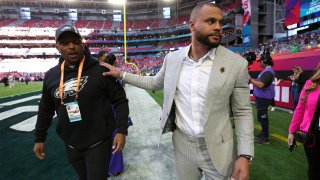 Kansas City Chiefs players aren't the ones getting booed by Philadelphia Eagles fans at Super Bowl LVII.
Ahead of the Big Game at State Farm Stadium in Glendale, Ariz., Dallas Cowboys quarterback Dak Prescott was honored for winning the 2022 Walter Payton Man of the Year award.
While Prescott was being recognized for his humanitarian efforts, that didn't stop Eagles fans from greeting him like they always do.
Prescott seemed to take the loud boos in stride. It's certainly not the first time he's gotten that kind of reception from Philly fans and probably wouldn't have expected anything different in this case.
Prescott was announced as the Walter Payton Man of the Year at the NFL Honors ceremony on Thursday. The award recognizes a player for his off-the-field efforts in the community, as well as their performance on the field.