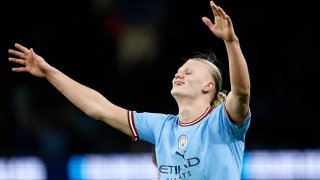 Erling Haaland's remarkable debut season in the Premier League is officially one for the record books.
Haaland scored his 35th league goal for Manchester City on Wednesday in a 3-0 win over West Ham, passing Andrew Cole and Alan Shearer's record for most goals in a single domestic season.
The record-breaking goal was set up by teammate Jack Grealish, who slotted a through ball to Haaland in the 70th minute. Haaland easily got past West Ham's back line before chipping a shot over the outstretched arms of goalkeeper Lukasz Fabianski.
The win -- which moved City back atop the league standings over Arsenal -- was a welcome touch, but the celebration after the match was all about Haaland.
His teammates lined up for a Guard of Honor in front of the home crowd at the Etihad.
The 22-year-old from Norway accomplished this feat in just his first season in the Premier League and with five matches remaining on the schedule.
He joined the reigning champions last summer from Dortmund and the Bundesliga. In many ways his arrival was a full-circle moment for the club as his dad, Alfie Haaland, spent the last three seasons of his Premier League career with Manchester City.
Almost immediately, Haaland somehow managed to exceed the already lofty expectations placed on him.
In the season premier, he scored two goals to secure City a 2-0 win over West Ham. He continued to score at a blistering pace, recording 13 goals over the next eight matches. He has four hat tricks on the season and has recorded a goal or assist in all but six of his Premier League appearances.
His contributions extend well beyond league play. Counting additional tournaments and cups, Haaland has 56 goals total and is considered a key piece to Manchester City's quest to win the club's first ever Champions League.
While still very early in his career, Haaland is already in the conversation for the potential to break the all-time Premier League record.
The current record is held by Shearer, who scored 260 goals in 441 appearances. Behind Shearer is Wayne Rooney and Harry Kane who are tied for second with 208 goals. Kane, whose average of .66 goals per game is well above Rooney and Shearer, is expected to dethrone Shearer in the next couple years -- assuming he stays in the Premier League.
That record may not last long, however, if the Norwegian stays healthy and manages to keep up at a similar pace. His 35 goals came in 31 appearances, giving him a staggering average of 1.13 goals per game.