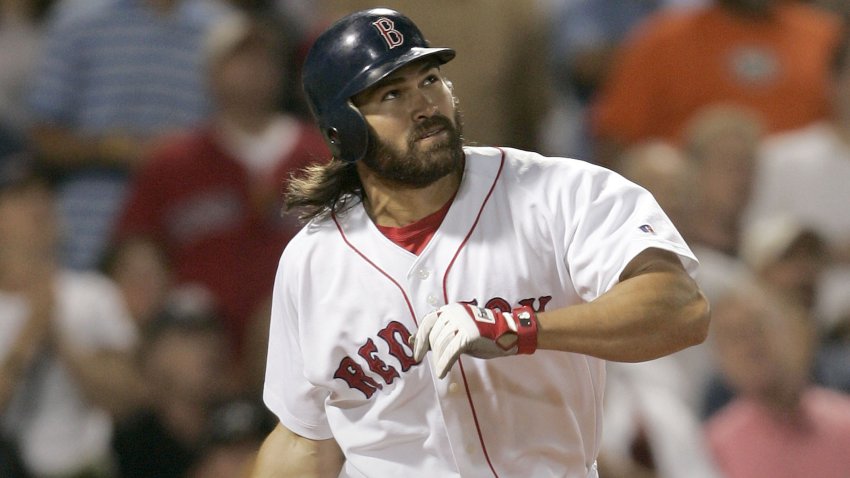 Former All-Star baseball player Johnny Damon was arrested early Friday morning in Florida on suspicion of drunken driving and resisting arrest, court records show.
Damon's wife, Michelle Mangan-Damon, was also arrested by Windermere police, who'd pulled the couple over after noticing their SUV was weaving on the road about 1:23 a.m., officers said.
Mangan-Damon was charged with hitting an officer and resisting arrest after they were pulled over, according to the records. Both allegedly didn't follow an officer's orders and together resisted as he tried taking Mangan-Damon into custody.
After they were handcuffed, an officer found Damon to be slurring his speech, with bloodshot and glassy eyes. He agreed to take a field sobriety test "because he was a 'big boy,'" an officer wrote in the documents.
Afterward, Damon was arrested on suspicion of driving under the influence. After being taken to a county DUI testing facility, two breath tests found he had a blood alcohol level of 0.3 and 0.294, nearly four times the legal limit of 0.08, according to the documents.
It wasn't immediately clear if Damon and Mangan-Damon had an attorney who could speak to their arrests.
Windermere is a wealthy town of about 3,500 people west of Orlando that's popular with professional athletes.
Sports
News, videos, and rumors on the Boston Celtics, New England Patriots, Boston Red Sox, and Boston Bruins, powered by NBC Sports Boston.
Damon, who grew up in Orlando, was a two-time All-Star outfielder who played for seven Major League Baseball teams from 1995 to 2012.
He was a key member of the 2004 World Series champion Boston Red Sox team that broke the franchise's 86-year title drought. He later signed with Boston's hated rivals, the New York Yankees, and helped the Yankees win the 2009 World Series.
The Associated Press contributed to this report.
NBC/Associated Press