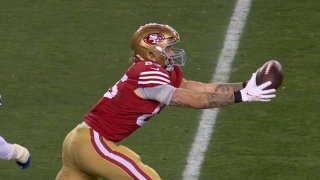 NFL Twitter stunned by Kittle's jaw-dropping catch vs. Cowboys originally appeared on NBC Sports Bayarea
George Kittle played a big role in shifting the momentum in the 49ers' favor during the fourth quarter of San Francisco's NFC divisional round game against the Dallas Cowboys at Levi's Stadium on Sunday.
With the game tied 9-9, a first-and-10 pass from 49ers quarterback Brock Purdy over the middle to Kittle resulted in a one-handed bobbled catch that injected momentum into an otherwise lifeless San Francisco offense.
Twitter was stunned after Kittle's otherworldly catch.
Kittle's 30-yard reception moved the 49ers' offense into Cowboys territory, helping set up an eventual two-yard touchdown run from running back Christian McCaffrey that gave San Francisco a 16-9 lead after the ensuing extra-point.
If the 49ers hang on to win and advance to the NFC Championship Game against the Philadelphia Eagles, Kittle's jaw-dropping catch will have played a big role in generating momentum at the right time.
Copyright RSN