Crossing the finish line at the Boston Marathon has become the start of a whole new journey for one young couple.
Bryan Jimenez said his now-fiancé, Kayla Gonzalez, was on his mind and on his heart during the race.
Just before running across the finish line, he got down on one knee and proposed.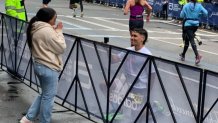 "It's something that's been on my mind for quite some time now, and I thought it would be the perfect opportunity to prove to myself, and to her, that I'm willing to work hard for our love," Jimenez said Tuesday.
He carried the ring with him while running. He said he knew he wanted the moment to be memorable.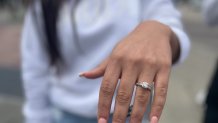 "I would consider myself a pretty extravagant person, so I had thrown the idea off at her and was like 'Hey, what if I propose at a Celtics game?' She said 'no,'" he laughed. "I feel like during the race, I was nervous, but as soon as I turned on Boylston, it all kind of hit me, like, 'Man, this is happening.'"
Local
In-depth news coverage of the Greater Boston Area.
It was an incredible moment that Gonzalez said she didn't see coming.
Her family, she said, was with her.
"I see him, and I'm like, 'OK, run to the finish line,'" she explained. "I see him slow down and I'm like, 'No keep going!' And then he takes the zipper down and I see 'Kayla,' and I'm like – 'ooh!'"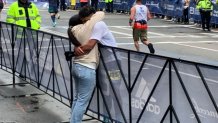 Jimenez wore a custom "Will You Marry Me" shirt for the occasion while popping the question.
"For a split second, I looked around, and I just see hundreds of phones looking at me," Gonzalez recalled. "I was just like, 'This cannot be real. Is this going to go viral, what's going to happen?'"
Spectators took photos of the proposal, some of which did go viral on social media.
"I was so happy, I couldn't stop smiling," said Gonzalez. "I've been waiting for this moment for a very long time, and I just felt at peace. I was very, very happy."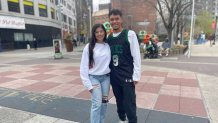 The couple of eight years said they first met at church down in Florida. They plan to tie the knot in December of 2023.
"It will always be a memory that was amazing," said Gonzalez.
"Just giving it your all, working hard and not giving up -- I think running and love are similar in that way," added Jimenez.