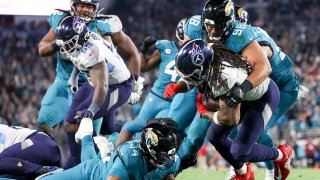 The Jacksonville Jaguars are officially the comeback kids.
Their most recent comeback? A 20-16 victory over the Tennessee Titans to clinch the AFC South and a spot in the playoffs for the first time since 2017.
Tennessee opened things up with a 10-0 lead midway through the second quarter, but the Jaguars started to make some noise with a touchdown of their own, even waking franchise owner Shad Khan from his slumber.
Jacksonville continued to cut into the deficit throughout the second half behind a pair of field goals from kicker Riley Patterson, setting the stage for a rowdy fourth quarter.
Trailing by three with just under three minutes remaining, Rayshawn Jenkins delivered the decisive play to strip Titans quarterback Josh Dobbs of the ball. Linebacker Josh Allen returned the ball for a touchdown to put the Jaguars on top for the first time Saturday night.
Dobbs had another chance to take the lead, but was unable to convert on downs, ending Tennessee's playoff hopes in the process.
In many ways, this come-from-behind win was fitting for the Jaguars. After posting the worst record in the each of the last two seasons -- winning only four games -- Trevor Lawrence and the Jags seemed destined for another disappointing regular season.
They lost seven of their first 10 games heading into the bye week. That week off proved vital to the team's postseason outlook as they returned to win six of the next seven matchups.
The Tennessee Titans, on the other hands, suffered a different fate. The reigning division champs started strong with a 7-3 record, but ultimately dropped their final seven games of the season and saw their starting quarterback Ryan Tannehill sidelined in Week 15 with an ankle injury.
The Titans will now miss out on the playoff for the first time since 2018, while Jacksonville makes its long-awaited return by hosting a Wild Card matchup against either the Los Angeles Chargers or Baltimore Ravens.