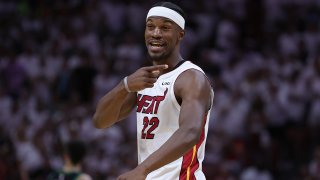 Jimmy Butler ruthlessly trolls Grant Williams, Horford in lopsided Game 3 originally appeared on NBC Sports Boston
Jimmy Butler doesn't let anything go.
The Miami Heat star got into it with Grant Williams in Game 2 of the Eastern Conference Finals after the Boston Celtics forward started talking trash to him after a made 3-pointer in the second half.
Butler responded by scoring four buckets on Williams down the stretch to seal Miami's 111-105 victory -- and he carried that same mindset into Sunday's Game 3 in Miami.
After hitting a tough bank shot over Williams late in the second half while drawing the foul, Butler celebrated by pointing straight in Williams' direction.
For his part, Williams deserved credit for at least showing a little fight against Butler and the Heat in Boston's Game 2 loss. But he clearly lit a fire in Miami's All-Star, who admitted Williams' trash talk motivated him to raise his game.
"He hit a big shot, started talking to me. I like that," Butler said after Game 2. "I'm all for that. It makes me key in a lot more. It pushes that will that I have to win a lot more. It makes me smile. It does."
Butler was in a trolling mood Sunday, also mocking Al Horford's timeout celebration from Game 1 after Gabe Vincent hit a 3-pointer that gave the Heat a 23-point lead.
The Celtics needed a win in Miami to avoid falling into a 3-0 series hole, but instead, it was Butler and the Heat setting the tone -- and rubbing it in Boston's face in the process.
Copyright RSN