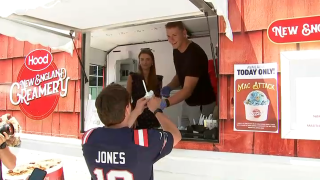 On Friday, New England Patriots quarterback Mac Jones put down the football and picked up the ice cream scoop.
The new face of the Patriots gave out free samples of ice cream at Hood Park in Charlestown Friday at noon. The first 100 people who attended got the free Hood ice cream from Jones — a limited-edition flavor named for him called Mac Attack.
"When you work hard, you should be able to treat yourself with ice cream that uses high-quality ingredients. For me, if I am going to reward myself for hard work, it will be with Hood's New England Creamery Ice Cream," Jones said in a statement.
NBC Sports Boston caught up with Jones at the event and asked about why, at the end of the season, he felt that it was important to make physical changes during the summer.
"That was one of the things I wanted to improve and I made significant strides in that area, fixing my body, feeling comfortable, feeling healthier and better," Jones said.
He added that you can't go overboard with being disciplined: "You're still a human and you want to eat what you want to eat … ice cream is one way to do it, so that's what I do for my late-night dessert."
Jones said he's feeling confident heading into the season, having made those strides in the offseason.
Hood is relaunching its New England Creamery line of ice cream with this and other free giveaways this summer.