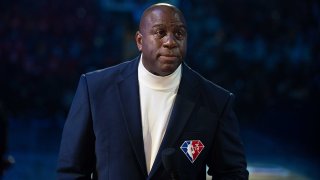 Magic Johnson, Charles Barkley put Celtics on blast after Game 3 loss originally appeared on NBC Sports Boston
The Boston Celtics invited a boatload of criticism with their lackluster effort Sunday night -- and boy, did the criticism come.
Needing a win to avoid falling into a 3-0 series hole in the Eastern Conference Finals, the Celtics let the Miami Heat walk all over them in Game 3, suffering a 128-102 defeat at Kaseya Center that pushed their season to the brink.
POSTGAME POD: Celtics pushed to the brink after blowout loss in Game 3 | Listen & Subscribe
The Heat embarrassed the C's to the point where the usually hot-take-averse Magic Johnson lit into his former rival on social media.
"In my 44 years of being associated with the NBA, I never thought I'd see a Boston Celtics team ... quit," Johnson wrote, adding that Celtics fans should feel "disgusted" and "devastated" after a loss so bad that head coach Joe Mazzulla sat his starters for the entire fourth quarter.
We'd imagine Johnson, whose Lakers beat the Celtics two of three times in the NBA Finals during the 1980s, took some pleasure in sending those tweets, even as Los Angeles finds itself down 3-0 to the Denver Nuggets in the Western Conference Finals.
Meanwhile, Charles Barkley had no reservations about piling on the Celtics after Game 3. In fact, the Hall of Famer and NBA on TNT analyst took a shot at the C's in the middle of his crew's interview with Heat guard Gabe Vincent, who scored a game-high 29 points.
"Clearly you didn't watch the game tonight," Barkley replied when Vincent said he expects the Celtics to come out strong in Game 4. "Talking about well-coached and don't lay down? Hey, go look at the tape again."
The C's may not enjoy this snark on the national stage, but they brought it on themselves with their poor performance on both ends in Game 3. They're the more talented team than Miami on paper, but the No. 8 seed Heat are playing with far more effort and motivation -- and are one win away from ending Boston's season as a result.
Game 4 is set for Tuesday at 8:30 p.m. ET in Miami, with NBC Sports Boston's coverage beginning at 7 p.m. ET.
Copyright RSN