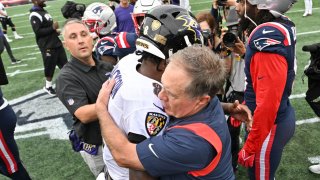 Kraft reveals text that suggests Lamar Jackson wants to join Pats originally appeared on NBC Sports Boston
First, Ken Francis. Now, Meek Mill?
According to New England Patriots owner Robert Kraft, the Philadelphia rapper reached out "three or four days ago" to tell him star quarterback Lamar Jackson wants to play in Foxboro. Kraft revealed the text from Meek Mill while speaking with reporters at the owners meetings Monday in Arizona.
The MMQB's Albert Breer reported that Kraft is leaving the decision to pursue Jackson up to Bill Belichick.
Jackson tweeted earlier on Monday that on March 2, he asked the Baltimore Ravens to trade him. The Ravens placed the non-exclusive franchise tag on Jackson on March 7, which allows Jackson to negotiate with other teams.
If Jackson reaches an agreement with another club, the Ravens will have five days to match the offer. If they don't, Jackson will leave and Baltimore will receive two first-round picks as compensation. The Patriots have the No. 14 overall pick in the 2023 NFL Draft.
While bringing in an elite talent like Jackson is enticing, it would come with a hefty price tag. In addition to the two first-rounders, the Patriots likely would have to give Jackson a massive long-term deal with a boatload of guaranteed money. Plus, the organization seems set on giving third-year QB Mac Jones a chance to bounce back under new offensive coordinator Bill O'Brien.
Copyright RSN