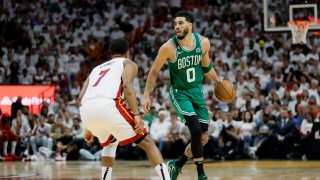 Can Tatum stay hot for three more games vs. Heat? Forsberg and Mannix debate originally appeared on NBC Sports Boston
The Miami Heat let the Boston Celtics win one. But for the C's to become the first team in NBA history to come back from down 0-3 in a playoff series, they'll need their superstar to play like one over the next three games.
Jayson Tatum is the key to Boston pulling off the impossible. The 25-year-old did his part in Tuesday's pivotal Game 4, scoring a game-high 33 points (14-22 FG) to go with 11 rebounds and seven assists. Twenty-five of his 33 points came in the second half.
Celtics Talk POSTGAME POD: Celtics stave off elimination with Game 4 win against the Heat | Listen & Subscribe
Can Tatum carry that momentum into Game 5 and beyond? Our Chris Forsberg and Sports Illustrated's Chris Mannix shared their thoughts on Wednesday's Early Edition.
"You haven't gotten a real Jayson Tatum game where he goes like he did in Game 7 against the Sixers," Forsberg said. "You haven't gotten the Jaylen Brown game at any point in this series. So I think that's what you're clinging to. Tatum is certainly capable of it, but I don't think you can just expect it to be, like, steady over the course of it.
"It's gonna come in waves and he's just got to be great in the moments that matter. And I think to me, that comes down to crunch time. Because if Jimmy (Butler) is gonna be Jimmy in crunch time, you gotta go punch for punch at some point, and Tatum in that moment has to be great."
Brown has struggled mightily through the first four games of the series. The two-time All-Star has averaged a modest 16.8 points while shooting just 39 percent from the floor (12 percent from 3) and turning the ball over 12 times.
Obviously, having both of the Jays fire on all cylinders would greatly increase the Celtics' chances of a comeback. But as Mannix states, the role players need to do their part as well.
Local
In-depth news coverage of the Greater Boston Area.
"I'm less worried about Tatum as who's gonna be the other guy? Is Grant Williams going to step up and play a big role in Game 5? Is Derrick White going to have a big game? I'm pretty confident that Jayson Tatum is going to play well for however long the Celtics are in this series," Mannix said. "But in order for them to win games, it's got to be someone other than Jayson Tatum and Jaylen Brown that steps up."
Williams (14 points) and White (16 points) both came up big in Game 4. But going forward, Brown and 2022-23 NBA Sixth Man of the Year Malcolm Brogdon need to find their groove. Brogdon has averaged 8.5 points in the series while shooting 35.3 percent from the field.
They'll look to snap out of their funk on Thursday night and send the series back to Miami for Game 6. Tip-off for Game 5 at TD Garden is set for 8:30 p.m. ET.
Copyright RSN