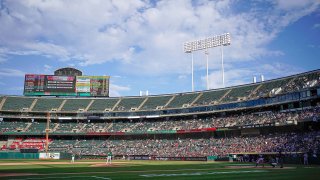 Oakland strikes historic deal to revitalize Coliseum originally appeared on NBC Sports Bayarea
Oakland city leaders entered a historic agreement Thursday that could revitalize the Coliseum complex and possibly bring a new sports team to the East Bay's largest city.
The city announced it is launching a partnership with the African American Sports and Entertainment Group in a deal that includes an exclusive negotiating agreement to develop the Coliseum complex.
As the Athletics entertain relocation prospects, many Oakland community members have been wondering what will happen to the Coliseum. Thursday's deal is the initial step toward the future.
"We're talking about new public facilities … more retail in an underserved part of Oakland … hospitality and entertainment options, more sports," Mayor Sheng Thao said. "We're talking about affordable housing, so that we can keep those who have lived here in Oakland for generations and their families can continue to live here."
The Oakland-based AASEG was founded in 2020 with a mission to use sports and entertainment to create a path for enhanced economic equity for the black community. The group wants to transform the hundreds of acres of land surrounding the Coliseum site into a center for sports, entertainment and residential use.
The group's other visions include forming the first majority Black-owned NFL franchise and bringing a WNBA team to Oakland.
The deal reportedly is the largest transfer of public land to an African American-led group in Oakland's 171-year history.
Copyright RSN