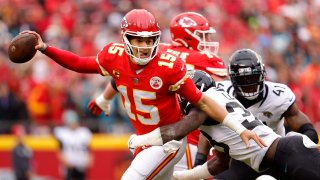 This changes everything.
Kansas City Chiefs quarterback Patrick Mahomes suffered an ankle injury in the first quarter of Saturday's divisional round game against the Jacksonville Jaguars. He is questionable to return.
The star quarterback initially stayed in the game with a noticeable limp before exiting to the locker room after the drive.
The injury occurred when Jags defender Arden Key landed on his ankle while attempting to sack Mahomes.
After limping to the sideline and calling a timeout, Mahomes returned to the field to finish the Chiefs' second drive of the game. He looked unstable while handing the ball off before the end of the first quarter.
During the break between the first and second quarter, Mahomes had his ankle taped up and he stayed in the game. The Chiefs' drive ended with an incompletion, then a 50-yard field goal by Harrison Butker to give Kansas City a 10-7 lead.
Mahomes was finally sent to the Chiefs' locker room for further examination during the Jaguars' next offensive drive. He threw down his coat in anger before leaving the field.
Veteran backup Chad Henne took over at quarterback on the Chiefs' ensuing drive.
The 37-year-old drove 98 yards and threw a short touchdown pass to Travis Kelce to put the Chiefs ahead 17-7 late in the first half.
Mahomes returned to the sideline but did not play for the rest of the first half as the Chiefs took a 17-10 lead into the break.
He then returned onto the field to start the second half.
This story will be updated as more information becomes available.