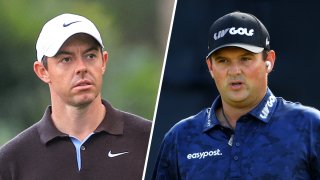 Golf may not be a contact sport, but that doesn't mean there aren't feuds.
This week, Rory McIlroy and Patrick Reed got into their own little tiff ahead of the Dubai Desert Classic tournament, which begins on Wednesday, Jan. 25.
Irish golfer McIlroy is part of both the European and PGA Tours and currently sits at No. 1 in the Official World Golf Rating, while his American counterpart, Reed, is part of the Saudi-backed LIV Golf league.
Here's why the two well-respected athletes had it out this week:
What happened between Rory McIlroy and Patrick Reed?
McIlroy accused Reed of not "living in reality" and refused to speak to Reed ahead of this week's Dubai Desert Classic.
Apparently, McIlroy has ignored Reed ahead of this year's Rolex Series at Emirates Golf Club, which includes the Abu Dhabi HSBC Championship, the Dubai Desert Classic, the Genesis Scottish Open, the BMW PGA Championship and the DP World Tour Championship.
Why are McIlroy and Reed in a dispute?
As aforementioned, McIlroy and Reed are currently part of different golf leagues, with McIlroy being in the European and PGA Tours and Reed recently joining the LIV tour.
Members of the LIV tour have been criticized for their involvement in the Saudi-backed league, and Reed is among the several players involved in an arbitration case with the DP World Tour over sanctions thrusted for playing at the LIV Golf debut last June. A hearing is expected to begin in February.
But where does McIlroy fit in? Well, Reed began a defamation lawsuit against media members and organizations, while his lawyer subpoenaed, as part of a civil lawsuit that was filed in June, McIlroy and Tiger Woods for their involvement in the players-only meeting that took place before the BMW Championship last August.
What does McIlroy have to say about Reed's actions?
"I was subpoenaed by his lawyer on Christmas Eve," four-time major champion McIlroy told Sky Sports in an interview. "So of course, trying to have a nice time with my family and someone shows up on your doorstep and delivers that, you're not going to take that well.
"I'm living in reality, I don't know where he's living. If I were in his shoes, I wouldn't expect a hello or a handshake."
Did Patrick Reed throw a tee at Rory McIlroy?
Yes, he sure did. Reed tried to say hello to McIlroy on Tuesday, Jan. 24, but was ignored. As a result of the dis, Reed threw a tee towards McIlroy.
"I was down by my bag and he came up to me, and I was busy working and sort of doing my practice, and I didn't really feel like ... I didn't feel the need to acknowledge him," McIlroy said.
"So I didn't see a tee coming my direction at all, but apparently that's what happened. And if roles were reversed and I'd have thrown that tee at him, I'd be expecting a lawsuit."