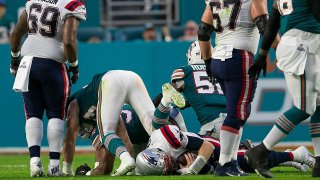 Struggling in Miami against the Dolphins is nothing new for Patriots quarterbacks, even for Tom Brady.
But Mac Jones did nothing to indicate things will be different for him in south Florida in the regular season finale on Sunday, playing better late but still committing two turnovers in a 33-24 loss which ensures the Patriots will enter the postseason as a wild card entrant for the first time since 1998.
New England has played on wild card weekend in the interim, most recently in 2019, but each of their 17 previous postseason appearances had been as AFC East champions.
Jones completed 20 of 30 passes for 261 yards, a touchdown, an interception and a fumble loss, capping off his rookie season with 3,540 yards passing, 21 touchdowns and 12 interceptions, completing 67.6% of his passes and registering a 92.5 passer rating.
The Patriots fell behind 17-0 by early in the second quarter, first on a Jaylen Waddle 7-yard touchdown reception from Tua Tagovailoa, followed by a Xavien Howard pick-six and a Jason Sanders 30-yard field goal.
Brandon Bolden scored the first of his two touchdowns to get New England on the board with 7:36 left in the first half on a 15-yard run, and a Nick Folk 43-yard field goal early in the third quarter got the Patriots back within a touchdown.
The Dolphins scored the next 10 points, a 1-yard touchdown run from Duke Johnson and a 49-yard field goal from Sanders, opening up a 27-10 edge before New England's offense finally woke up.
Brandon Bolden's 18-yard touchdown catch capped off a 10-play, 75-yard scoring drive for the Patriots with 6:32 remaining, and Damien Harris had a 1-yard touchdown run which followed a Miami three-and-out with 2:53 remaining in regulation.
New England wouldn't get the ball back until there were just 3 seconds remaining, however, as the Dolphins milked the clock for nearly all it was worth, pinning the Patriots at their own 3-yard line on a punt.
Jones sent a screen pass to Jakobi Meyers, whose lateral was intercepted by Sam Eguavoen in the end zone as time expired.
After the Las Vegas Raiders beat the Los Angeles Chargers on Sunday night, the Patriots are now scheduled to play the Bills for the third time this season on Saturday at 8:15 p.m. in Buffalo in the first round of the NFL playoffs. They split their two games during the regular season.
New England fans react to Dolphins loss
Fans at Gillette Stadium on Sunday night were understandably disappointed with the Patriots' performance against Miami.
"Lesson learned, just move on move forward and get better as the day goes on," said Pats fan Chris Tuttle.
At McMorgan's in Walpole, fans reflected on the regular season.
"I think we did pretty good this year," Sean Jameson said.
"I don't think we'll go all the way. I think we'll go another round at least," said another fan who did not give their name.
Jones' recent struggles are a cause for concern among fans.
"He made a lot of errors. It's going to go through his head, but he's got to look past it and move on," Tuttle said.
Fans are now hoping the Pats can pull it together in the postseason.
"Win or lose, we're still number one," Jetta Thompson said.