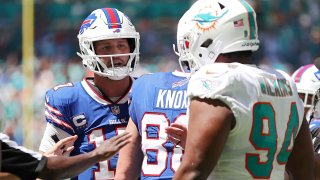 Things are getting heated in Buffalo.
The Miami Dolphins got a crucial turnover when cornerback Xavien Howard intercepted Bills quarterback Josh Allen. The attention quickly turned a bit further downfield, where players from both teams got into a scuffle.
Dolphins defensive lineman Christian Wilkins bumped into a disengaged Allen on the play, and Allen shoved Wilkins back. Center Mitch Morse and several other Bills players then ran up to Wilkins with Morse bringing Wilkins to the ground.
The tussle resulted in offsetting penalties for Wilkins and Morse with the Dolphins beginning their next drive at the Bills' 48-yard line.
As Kyle Brandt of NFL Network pointed out, Allen and Wilkins' beef dates back to earlier this season. Allen appeared to accuse Wilkins of grabbing his crotch in a pile during the Week 3 Bills-Dolphins game in Miami.
Following the Howard interception, the Dolphins proceeded to get a field goal that brought their second-quarter deficit to 17-6.